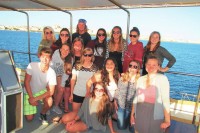 By Rachel Potter – Morningside College sent 15 students and 2 professors to Italy at the beginning of the semester.  After three months, these students returned to the United States on Tuesday, April 12.
While studying in Italy they were all able to stay on track with the college courses. They took classes such as Italian Cinema, Italian culture, and travel writing.  Studying abroad for a semester also fulfills Morningside's requirement for a May term.
Three of the students on the trip to Italy were asked about their experiences, memories, and what it was like to be home.
"I think it is an amazing experience because it is so eye opening to live in a different culture and study their ways to doing different things," said Jadyn Mohr. "This semester gave me the chance to grow as a person and become more independent."
"One of my favorite memories was having the ability to travel throughout Europe," Skylore Curry said.  "One of my favorite countries we visited was Greece because it was different from every other place we had visited already."
Kelsey Krohn said, "I loved my time spent in Italy, but it was great to be home to see my family and friends.  Everyone had someone waiting at the airport to great them when we flew in on Tuesday, it was an overwhelming moment!"