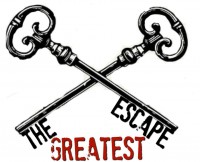 By Kayla Samek—Most people would not consider being locked in a room for an hour to be a "fun" experience, however, the growing trend of "escape rooms" provides that experience for those seeking adventure. The Greatest Escape is Sioux City's newest attraction.
An escape room is an activity where teams, generally between four to eight people, are locked in a room and must find clues and solve puzzles to escape within the hour time limit. Sioux City's escape room, the Greatest Escape, opened its doors on April 2nd and has attract thrill-seekers and novices alike.
Located at 2540 Glenn Ave., it offers three themed rooms and three unique experiences: The Rabbit Hole, The Hostage, and The Pirate Ship. It is open Monday through Saturday, at varying times, so check their website or Facebook Page for details.
Though it may seem terrifying for some to be locked in a room, the staff constantly monitor the participants through cameras and walkie-talkies, to ensure that the groups feel safe and are enjoying the experience. The staff will provide clues if a group seems stuck or asks for help.
If you're looking for adventure or an alternative to going to the movies, The Greatest Escape is a great option for you—though the price is 25 dollars a person, which seems reasonable for such a unique experience, having done The Hostage room myself.
My team made it out with just a minute to spare. I don't want to give too much away, but every time we solved a puzzle, we felt like super spies. There were surprises and unexpected twists, and you could not ignore a single detail. After the feeling of accomplishment wore off, I was impressed by the amount of work the staff put into the room, clues, and the puzzles.
I am looking forward to trying the other two rooms in the future. The Greatest Escape is a challenging and rewarding exercise for your brain.