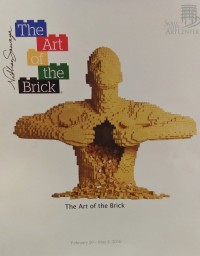 By Kayla Samek–LEGO Bricks are one of the most popular children's toys, but one artist has created elaborate sculptures out of the plastic blocks. This artist is Nathan Sawaya and his work is featured at the Sioux City Art Center from February 20th through March 8th.
The exhibit, called the Art of the Brick, like all of the Art Center's galleries, is free and open to the public. The LEGO sculptures appeal to audiences of all ages; kids will be amazed and inspired to see their toys be featured in an art gallery, and adults will appreciate the precision and effort put into the art.
Nathan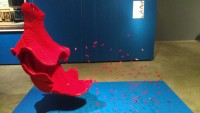 Sawaya, originally from the Pacific Northwest, then moved to New York City to work in the legal field. Sawaya soon felt out of place in his chosen career.
"[I] quickly came to realize I was more comfortable sitting on the floor creating sculptures than I was sitting in a boardroom negotiating contracts," said Sawaya, in the Art Center's "Art of the Brick" pamphlet.
The LEGO sculptures are made up of tens of thousands of bricks and some pieces take a month or longer to create.
Another feature of the exhibit are Sawaya's collaborations with photographer Dean West. West constructs photos of landscapes, and blends the sculptures made out of LEGO Bricks into them. Sawaya's sculptures and West's photograph compliment the other's work.  To see more of the Art of the Brick exhibit, visit the Sioux City Art Center before March 8th.