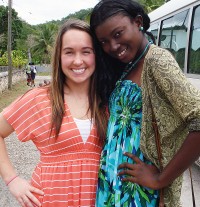 By Brittany Conolly–Not only is Brittney Schindler taking a full class schedule, but she is making time for practicums to jump-start her student teaching abilities.
Juggling two majors, 18 credit hours, practicums, and a part time job at Apple Tree Daycare isn't enough. Schindler, a senior majoring in elementary education and special education, recently took a weeklong mission trip to Stewart Town, Jamaica near Ochos Rios.
The mission trip was sponsored by her place of work, and was packed full of activities. These activities included assisting teachers in the classroom, interacting with children at the local schools, visiting orphanages, and service learning projects. All of these were beneficial to Schindler's major. She experienced different things while visiting all of the different locations.
Schindler said, "We visited two orphanages, both of them included children with learning disabilities. They were so happy to see us because they never get visitors. Because I am a double majoring in special education this really opened my eyes to what people with special needs go through."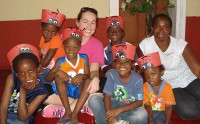 Dealing with children who have special needs is, and will continue to be, a huge part of Schindler's career. Not only was this an eye opening experience, it taught her to look at her life differently. Schindler said, "This was an amazing experience. It taught me that I am so lucky to live in American, and have all the things I do, especially in school."
This mission trip provided Schindler with tools she can use later in her career and life. She said, "I would definitely do it again, it benefited my career on a whole different level then just going to school. I would like to take a trip every year, or even live there for a couple years and continue to work with children." The mission trip was a success in her book. Schindler had an amazing time, learned to appreciate her life a little more, and met amazing people who had a permanent affect on her. She plans to take another mission trip next summer.