By Grace Nordquist–"Thank you for dinner again," has become a common phrase at the Koch household on Wednesday nights.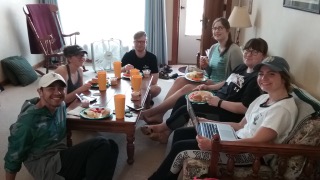 Abby Koch, Morningside sophomore, has been having friends over for dinner once a week since February – well more like her mother, Mary. After some friends had been complaining about the food at Morningside's cafeteria, Mary decided to prepare a meal for Abby and her friends once a week. Thus, "Wednesdays at Abby's" began.
At first it was just Abby and her two friends, Mari Pizzini and Kaitlynn McShane, who went over to her house, only a couple minutes from campus. Then, when others found out about the delicious meals, the group grew. Now the group includes Shane Roeder, Diego Marquez, and myself. For the students it's a simple invite over for dinner, but this seemingly simple gathering makes Mary Koch one happy mother.
Mary sets up her meal for the night in the kitchen as the students file through and pile up their plates. Almost everything is homemade, including the delicious ranch dressing. One of the best parts – there's almost always a dessert. Once the students make their way to the living room, Mary says a prayer over the meal and the students, making the time even more meaningful.
Mary says she enjoys having the students over and watching them interact. She said, "It's just a blessing to see Abby's friends come in." She smiles as the students gather in the living room with full plates, discussing their busy schedule as the year comes to an end. She's heard about them before, but adds, "It's nice to put a name with the face."
Mary has enjoyed cooking for as long as she can remember, and the students can tell. Her home cooked meals are hands down their favorite meal of the week and why they look forward to Wednesdays.
If there was a dish she's known for, her daughter Abby says it would have to be her chicken enchiladas and her coffee cake for dessert, but the variety of her dishes are endless.
The students all have their own top choices. Mari Pizzini says the taco burgers are her favorite. They're made of ground beef with taco seasoning and a quesadilla for a bun. Kaitlynn McShane recalls the thanksgiving style feast as her favorite. As for Shane, Diego, and I, the lasagna has taken first place in our hearts.
While it may just be a simple meal once a week, it means a lot to the students. Mari notes, "I like it a lot. Abby's one of my best friends and I love her parents." You can tell by the smiles on the student's faces and their full stomachs that they enjoy the meals. It's a time, if only for a moment, where they can take a break from the stresses of school and enjoy a home cooked meal at their home away from home.