By Grace Nordquist–The Morningside Men's Wrestling team competed against the University of Jamestown Thursday, Jan. 31, in what would be their last home dual for the season. For the class of 2019, it would be the last time competing in their home field house. It was a special night for the Senior class, and they left their mark with a 47-4 win over Jamestown.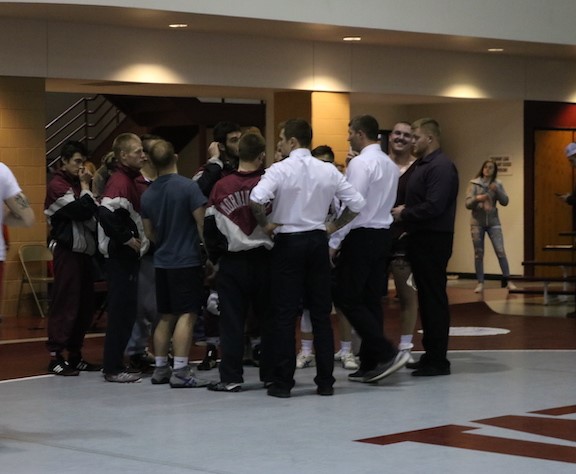 Meet the Morningside wrestlers who have put their blood, sweat, and tears into the intense sport of wrestling. The countless years of waking up early, grinding in the weight and wrestling rooms, and cutting the weight will soon be memories for the 2019 graduating class. Among those memories are some from their past years spent at Morningside.
Brendan Crews from La Vista, NE wrestles 157. Crews is a Business Administration and Advertising Major. Crews says his favorite Mustang memory is from the team retreat. He recalls the entire team getting together and playing a super competitive game of tackle football in the river. Crews comments, "Even when we're just having fun we've been bred to compete with each other."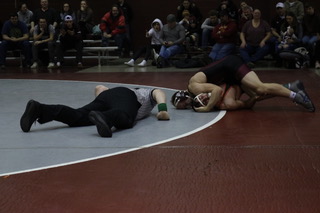 Caleb Deemer from Palmer AK wrestles at 197. Deemer is a Science Teaching and Special Education Major. His favorite Morningside Wrestling memory was going to regionals Sophomore year. He notes the team "Put in a year's work to go battle it out to make it to nationals." Deemer takes pride in the team camaraderie, "We all knew that we put in the work and that the struggles we battled through made us stronger and brought us closer together."
Dakota Drenth is from Hartley, IA and wrestles at 149. Drenth is an Elementary Education and Special Education Major. One of his favorite memories as a Mustang would have to be this year's team trip to Arizona. From climbing mountings to grinding in the wrestling room, Drenth says he enjoyed "Competing and training with the bros."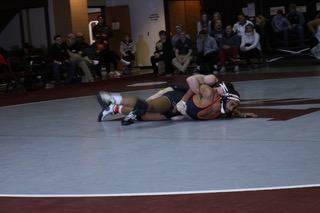 Keegan Hessler from Scottsbluff, NE wrestles at 125. Hessler is a Business Administration major. His favorite memory as a Mustang comes from his Sophomore year at the National tournament. After winning his match in the round of 12 to secure his title of "All-American," he was able to run up to his parents and celebrate the monumental win. Hessler admits, "Being able to celebrate that special moment with them was amazing."
Nickolas (Nic) Madsen from Le Mars, IA wrestles at 174. Madsen is a Business Administration major. He notes it's hard to choose one out of the many memories he's gathered over the years, with so many different people. Madsen adds he wouldn't be the wrestler he is today without his past and present coaches, as well as current and former teammates. Some of his favorite memories at Morningside come from wrestling with Logan Moore, Steven Garcia, Derik Bailey and many more outstanding teammates who pushed Madsen to be the best he could be. "Those guys were perfect role models for what it takes to be a great wrestler, leader, and student." He notes they're key reasons as to how he got to where he is today. Madsen concludes, "Furthermore, I had coaches that believed in me when I didn't believe in myself. So Coach Kruger, Hardman, Rulin, Kac and Stevenson, thank you."
Lane Nichols from Hornick, IA wrestles at 141. Nichols is an Applied Agriculture and Food Studies Major. Nichols can't recall a favorite Mustang memory but says he will not miss cutting weight.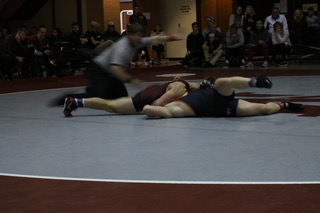 Devin Phaly from Sergeant Bluff, IA wrestles 125. Phaly is an Advertising major. He says he can't narrow it down to one simple memory from his four years at Morningside. "Being able to grow, mature, and create lifelong friends through a sport that we all work so hard together in has been the most influential memory at Morningside as a wrestler." Phaly adds there have been highs and lows throughout his career but he had teammates and coaches who helped him persevere and wanted him to succeed. Phaly reflects on his career saying, "Wins and losses aren't the things that will matter the most at the end of my wrestling career, but the bonds I created and the character it builds will last forever."
Keagan Putnam from Sergeant Bluff, IA wrestles 165. Putnam is an Elementary Education major. His favorite memory as a Mustang is similar to his teammates, describing the bond he created with them and the coaches. Putnam comments on the group of seniors and how goal driven and supportive they are of one another, "We can count on each other." Putnam, looking back says, "Everyone pushes each other on the team and I have felt myself grow so much in this sport from my freshman year to now. I love the competition that Morningside has brought me." Looking forward, Putnam hopes his favorite memory is yet to come by achieving his goal of qualifying for nationals and becoming an All-American.
The Mustangs continue to prepare for the GPAC tournament Feb. 16th with the goal of qualifying for the National Tournament in March, where these seniors will make their final debut.