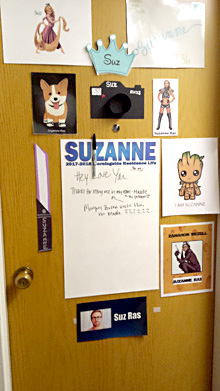 by Lindsey Smith–As the school year becomes more stressful, RA's on campus are finding ways to balance their busy schedules with the demands of school.
Some are new to the RA (residence assistant) position, like Suz Ras, a junior and math education major. Ras took the position after having a good experience with her previous RA's.
She says of her decision, "I really like meeting new people. Being an RA on campus is an experience you won't get anywhere else. It's just a great opportunity for everyone."
Nic Madsen, a second year veteran RA, echoes Ras' sentiments saying, "There's some pretty good perks. I love being an RA simply for the fact that I get to meet a lot of people, people I wouldn't meet otherwise."
However, being an RA doesn't come without its own set of struggles, including time management and setting ground rules for residents.
It's also easier at times to be an RA on a freshman hall. As Madsen says, "For freshman, they'll go to a lot of things because they don't know what they want to be in. Upperclassmen don't as much because they are already involved in what groups they want to be in, so it's a little harder to hold hall functions."
Like any other job, RA's can earn promotions. Madsen hopes to become a head RA next year, earning all kinds of new responsibilities. The Head RA is essentially in charge of all the other RA's throughout the year and is a way to learn a leadership position while still in school.
Ultimately, while the RA position has its challenges, it isn't impossible. As Madsen says, "As long as you have good time management, you can be an RA."