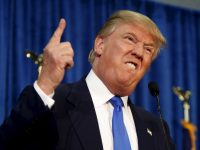 (1-23-17) By Mitch Kellogg—On Friday, Donald John Trump was inaugurated as the 45th President of the United States. This was a day of hope for some, and a day of doom for others.
In the days following President Trump's inauguration, not much has gone according to plan for our new Commander and Chief. The day of the inauguration, our nation's capitol was littered with rioters and looters, causing destruction to a local Starbucks and Bank of America, as well as other public places and parked cars.
The "riots" were followed a day later with a nation-wide women's march on Washington. If the first few days of the Trump presidency are any indication of the next four years, we are going to be in for a long haul.
Students across Morningside's campus have voiced their worries as well as their hopes as this country is at a cross roads and this Presidency can either have a positive impact on which direction we head, or it can provide a sad detour.
Dylan Mersola, a junior, is optimistic. "I hope Trump does right by the people and that those people give him a chance."
There are high hopes and skepticism for the Trump presidency and only time will tell if Trump will be "trumped" by the people.