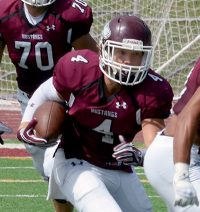 By Blake Meacham–In the first quarter of the first football game of the season, standout wide receiver Connor Niles broke his ankle after a reception. The crowd on Morningside's half of the field went from buzzing cheers due to the excitement of the opening weekend to a worried hush in less than a couple of seconds.
Connor knew something was very wrong immediately.
"I flipped over and saw my ankle. It was limp and it looked like my foot and my leg met at a 45 degree angle," described Niles in painful detail.
Before he could even begin to muster screams of pain and shock, the training staff was over him, checking out his broken ankle and asking about the amount of pain he was in. They put him in a type of inflated brace and carried him off the field. Niles was loaded into a car and taken to the hospital for x-rays that confirmed the break.
"I was obviously very upset and even more disappointed. It sucks knowing that you won't be able to go out there to help your guys win and there's nothing I could do about it," he said.
Niles was in and out of surgery before the game was over that Saturday afternoon. "I woke up and found out that the guys were still playing. Within the next hour or two, a bunch of teammates came to my hospital room and were there to support me," said Niles after recalling how his Saturday played out.
Connor has only broken one bone in his life before that day. In eighth grade, he broke his hip. He didn't remember the pain very well, but he can't imagine it hurt any worse than the broken ankle felt.
Even though he hasn't started his rehab yet, he's been off his crutches for a little while. Niles starts his physical rehabilitation this week when he travels to CNOS a handful of times to start his exercises.
Gaining Strength
However, just because he hasn't started gaining strength in his ankle doesn't mean he hasn't gained strength in other ways. A thick wall of support from his closest friends and family has surrounded Niles, but his teammates have provided the most encouragement through the past couple of months.
"They're constantly asking about when rehab starts and asking about how it feels. They get excited when I tell them about any kind of progress, small or big."
On the field, one of his best friends and fellow wide receiver Tanner Ver Steeg shows support for Niles by wearing a decal of the number one on the back of his helmet for every game—Niles's number. Ver Steeg also talks to Niles constantly on the field, as if Niles was about to go back onto the field with him for the next possession.
Niles admits that the worst part about not being able to play is the fact that he can't be on the field fighting with his teammates, who he considers his brothers and best friends. Even though he can't physically provide the team with his usual play-making speed and athleticism. Head Coach Steve Ryan lets Niles do everything that he'd normally do with the team if he were able to play.
"Coach Ryan has been there for me as much as any teammate. He's allowed me to be with the team as much as I physically can and there's nothing I'd rather do," said Niles with a grin.
Niles plans on taking his time to recover so that he can come back in the fall of 2017 as fresh and as strong as ever.