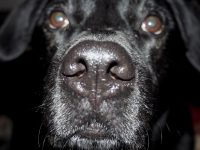 By Rachael Arnts–Moving to college can be a "ruff" transition, especially when the student is leaving a beloved pet behind. Even though students' furry friends are left behind the students agree it is better for their social lives.
Pets provide social support, lower blood pressure and reduce mental stress according to Petpartners.com.
College students living on campus who are pet owners have to learn how to cope without pet therapy in physical form. Each student has their own unique way to cope. The  students who admit that they are obsessed, go the extra mile to keep in contact with their pets from the dorm room.
For example, putting their pets' name into songs and not caring about any raised eyebrows or wrinkled noses from their peers. However, these animal lovers, both male and female, admit the physical separation is a good thing for their social lives with humans.
"They're both my babies and I'm their Mom," states junior Miranda Marks in reference to Oliver the dog and Socks the cat. She sits up straighter and her blue eyes sparkle with love and admiration. Marks is now a commuter. For her first two years of school, she lived on campus and was separated from her favorite dog and cat. To cope with missing them, her parents would Snapchat her pictures, let her FaceTime with Oliver, and even put him on the phone when she called home.
Now that Marks has moved back home and commutes, she is a lot happier and so are Oliver and Socks. Marks described that when she goes to leave for class, Oliver will whine  and sometimes even hide. Oliver has the closest connection with her, compared to any other member of the Marks family.
Marks is not the only student who adores her pets.
"I'm really obsessive about my cat," admits senior Joelle Kruger as she grins from ear to ear. She proudly owns Bingley "Bing"  Charles and is not afraid to mention him in any conversation. The pair have an undeniable connection.
Kruger describes Bing as being very affectionate because he tries to stroke her face with his paw. Bing can't meow so he purrs as load as a motor boat when Kruger gently strokes his fine orange hair.
When Kruger first moved to college she saw Bing as her replacement. "My parents became empty nesters and I knew that he was helping keep my mom sane. It was helpful to remember his purpose," said Kruger.
To make up for not seeing him on a daily basis, Kruger had plenty of ways to remember her fat orange cat. One creative way to remind herself of Bing is by putting his name into song lyrics and then sing. Kruger also explained that her mom also sends her pictures and videos of when Bing is doing something cute.
Marks and Kruger are both from Iowa, but senior Braden Hall has a much larger gap between him and his dogs and cats in his home state of Alaska.
"I'm pretty close with my dogs and cats even though I'm allergic to them, but I take medicine so it's fine," Hall explained. His eyes were fixed on one point and his tone got softer as he was visualizing them. He explained that his dogs are show dogs, so his mom will send him pictures and videos with their awards. A lot of times he'll just ask how they're doing to.
All three students admitted that if pets were allowed on campus, then they would get less work done and have fewer friendships with people. Kruger mentioned that she would be calmer with her cat around, but would probably not invest as much time into friendships. She would rather enjoy just following Bing around and taking cat-naps with him. Hall added that he would definitely spend more time with his pets because they're not judgmental.
The advantage of the physical separation from a pet is that a student can form the same type of bond with an actual person. Each student is thankful to have made strong life-long connections with new friends in college because they didn't have a furry distraction. With Marks and Kruger being the youngest of their families, they were comforted knowing that their parents are not completely alone either.
With a positive twist, it's a win- win situation. Students can improve their social lives, while lonely empty-nesters have an opportunity to take on "another child".