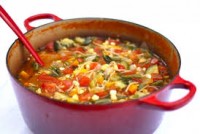 By Diane Nguyen–Growing up, my parents always made some type of Vietnamese soup for my siblings and me when it got cold outside. Or my friends and I would make a pot of whatever we had in the house and bond over that.
When I went off to college my roommates and I always shared soup on Sundays together. Which eventually became our tradition to where now we always have soup on Sundays.
With the weather getting colder here in Iowa, I'm going to share with you a few of my favorite soup recipes.
Chao
First is Chao, translated from Vietnamese to English this is Rice Porridge.
It's a bland dish but once finished you can add some condiments according to your taste
In a large pot start with 3 cups of water and let simmer. Clean the rice and the chicken and once that is clean add both to the pot and add some salt, a teaspoon or two. Cook on low for one hour. Stirring intermittingly.
After an hour take the chicken out and let that sit. Continue to cook the rice until the rice grains look cooked.
This part if now up to you depending on what kind of soup you like. If you like a more watery soup you can add more water. Otherwise if you want a thicker soup don't add as much water and let it cook longer for the rice to take up a porridge consistency. This could take another hour depending on how 'thick' you like soup.
Once the soup is finished add pieces of the chicken into the soup. Serve with sides of onion, green onion, fried onion, fried garlic, fish sauce, srircha, salt and pepper, and lime. Add to taste and you'll be good to go!
Volcano Soup
Back when I was in high school not only did my parents make soup but my friends and I did too. The nights I spent with my best friends making soup and jamming on RockBand were some of the best nights. But no night was ever complete without Volcano Soup. Sounds like a super fancy soup right?
Wrong.
This soup was just basically super spicy chicken noodle soup.
Get a couple cans of chicken broth, any kind of noodles, chicken chunks, carrots cut into cubes, celery sliced, mushrooms cut into slices or chunks and whatever seasonings you can find in the kitchen. Toss all of these ingredients into a pot and let simmer until all of the noodles are tender. Once the noodles are tender, scoop the soup into separate bowls, and add enough hot sauce to make yourself cry or not. Really just as long as the noodles are tender the soup is ready to serve. Top your bowl with some cheese, add some hot sauce to taste and you're good to go.
Another way to get a soup recipe and this was how my roommates and I used to find a recipe, was to get one off the Internet. Finding a recipe of whatever sounded good online and then making it our own, was half the fun of cooking it. Not only were we cooking together but also because we had a recipe we based our soup off of we had an idea of what we were making. Cheesy broccoli, chicken enchilada, and chili are always easy to make and alter, without it being too wacky from the original recipe.

Nothing beats a cold night better than warm soup and good company. Please take these recipes and make them your own. Get a group of friends together, make some soup, stay warm, and most importantly make some memories.