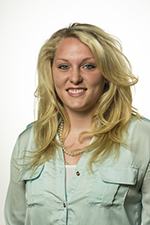 By Andrew Schnebel– This week's Collegian Reporter athlete of the week is Ashlynn Muhl.
Muhl, a 6-foot forward from Mineota, Minnesota, helped the Mustangs to conference wins over Dakota Wesleyan and Mount Marty. In the win over Dakota Wesleyan she posted 15 points, while adding 11 rebounds. Two days later in the win over Mount Marty Ashlynn put up 16 points, with six rebounds. Those two wins extended the Mustangs' winning streak to five games.
On the season Muhl is leading the team in both points and rebounds. She is averaging 11.5 points per game, and 8.3 rebounds per game. The Mustangs are currently ranked 10th in the nation with a 20-5 record heading into Saturday's home game against Midland University.
They are on the downward stretch of the season, with five games left before conference tournament play begins February 26th.