by Brittany Conolly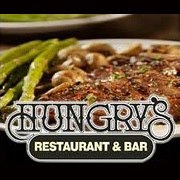 Steak, potato, and Texas toast, all cooked in front of you on a grill. Hungry's
restaurant in Dakota City provides just that atmosphere. The restaurant is centered
at the middle of town, and sits on the main road that goes through Dakota City,
North 14th Street. The inside welcomes any customer who walks in. A bar is at the
front of the building with a big variety of drinks to choose from. The rest of the
restaurant opens up into a large dining room with the grill located in the middle,
and there are two large fish tanks to entertain children located in the center area.
The menu is full of delicious steak choices, chicken dinners, seafood,
sandwiches, and homemade desserts. Meals come with your choice of a potato side,
Texas toast, and the salad bar. Ordering is just half the fun because you get to watch
your food being grilled right in front of you.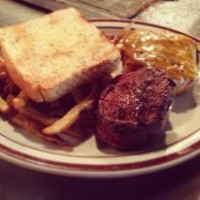 The choices are vast, and choosing the right combo can be tough. Claire
DeRoin, senior at Morningside, said, "I usually order ribs, but sometimes change it
up and get steak. Everything there is delicious! It's hard to choose some days, but no
matter what I order, Hungry's amazing pina coladas go with it well."
Now, this steak house is not like your big, name brand franchise steak
houses, it has a hometown feel, with a homey atmosphere. The prices are a bit more
than the franchise businesses, but well worth the money. DeRoin said, "Hungry's is a
great little steak house that college kids probably don't know about. It doesn't have
the corporate feel of franchised restaurants. Because it's family owned, it is a
friendly place. It is a steakhouse, so it's a little more expensive than McDonald's. The
food is definitely worth it and worth the trip over to Dakota City."