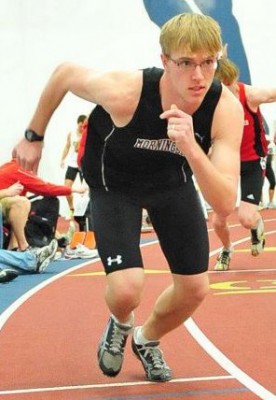 By Kevin Green–
Dominic Means is always trying to stay one step ahead.  Whether in the classroom or on the track, those around him always seem to fall behind. But don't let a humble demeanor fool you. Means, like Charlie Sheen, is all about winning.
Training for Morningside's indoor track season team has Means, "running anywhere from probably 15-20 miles a week plus floor workouts." A task many students would find difficult fitting into their busy schedules.
This season Means has only run the 600 and the 4X400, admitting, "This was my very first 600 and I ran it in 1 minute and 29 seconds. My split for the 4X400 was a 54.1 second."
Means is still adjusting to the higher level of competition, and about other GPAC teams, "The competition change from high school to college is ridiculous. Things go a lot faster and are ran well."
Considering the Mustangs return Nationals qualifiers Monte Larsen, Breanna Mathies, and Megan Gilser,  Means believes the team's "outlook for the season is pretty good."
So far this season, Larsen has twice been the GPAC Indoor Track Athlete of the Week, while Gilsar broke Morningside's high jump record at the The Buena Vista Open.
The NAIA Indoor Championships will be in Geneva, Ohio, this year running March 1-3. The Outdoor Championships are May 24-26 in Marlon, Indiana.