Sculpture finishes Hilker Campus Mall
By Nick Buth–
While academic research was on display across campus during the Palmer Symposium, the Hilker Campus Mall was getting its final touches in the form of 20 to 30 tons of limestone with mirror finish stainless steel plates affixed to their surfaces.  The stones arriving on site in front of Eppley Auditorium on Tuesday, and being placed in the ground on Wednesday, finished off the new sculpture created by Andréa Stanislav.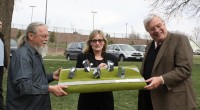 Just before ten o'clock on Tuesday morning a pair of trucks from a quarry in Anamosa, Iowa arrived on campus carrying the limestone, Iowa's only commercially harvested stone.  Limestone was selected for the sculpture because it is native to Iowa, but also because it matches the front of Eppley Auditorium.
Stanislav and her husband Dean Lozow have been working on this sculpture for some time now.  They've visited the campus and the quarry preparing things for the installation and selecting the site.  The lawn between the Eppley driveway and the McCollin parking lot was not the first site proposed.
"We selected the site because we wanted a place that would be used on an everyday basis, not just special occasions," explained Stanislav.
"Most artists wouldn't do a public install on a slope like this," said Lozow on Tuesday while working on final preparations for the site.
"I chose this arrangement because I wanted something that would bring the theatre (Eppley Auditorium) and the street into the heart of the campus," said Stanislav.
"When we started the campus green project, we had said from the get-go that the campus really needed more sculpture," said Morningside College President John Reynders.  "I think it's a nice finishing touch.  It adds art to that center piece of the campus.  Even when you walk the runway up here and look down, the reflections are just beautiful."