By Kassidy Hart– With the rise of Tik Tok as a social media platform, Morningside has decided to hire their very own Tik Tok Marketing Intern, sophomore Caleb Roggenbuck.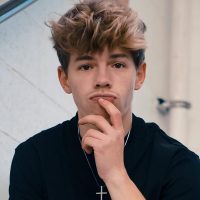 After deciding that Tik Tok would be another great outlet for reaching current and future Morningside students, the University Engagement team decided to recruit a student to bring the page to life.
"We are always looking for new ways to share about Morningside University and the student experience. We didn't want our TikTok to be as curated as Instagram because it's a more organic and fun platform," Enrollment & Digital Creative Coordinator, Tasha Goodvin said. "We knew a student would be able to deliver that because they are living the Morningside experience."
Roggenbuck caught their eye as a good candidate for the position when one of his art pieces was published in the Kiosk. The caption of his photo detailed that he had gone viral after posting a video that showed his art process.
"We first heard about Caleb when he got first place in the Kiosk for his artwork," Goodvin said. "After talking with some of our other interns, we heard Caleb creates really engaging TikToks. I reached out to him with an opportunity to potentially come work in University Engagement creating TikToks and helping with some graphic design projects. He was excited about it and here we are!"
Roggenbuck accepted the position because he thought it would be a great opportunity for putting himself out there and gaining experience in the marketing world. 
"I've been considering switching my major to marketing, so this is a good taste of what I would like," Roggenbuck said. "I love working with photo and video in a creative way. I'm also very extra and a perfectionist when it comes to stuff like this, so people can only expect good things from me."
As Morningside's TikTok intern, Roggenbuck is tasked with making videos that highlight special events and opportunities, along with daily ones that show his life as a Mside student.
"I'm excited to make hype videos and edits for various sports teams," Roggenbuck said. "I'll be doing fun and random videos depending on what's trending."
Even though Roggenbuck has experience making videos that gain something exposure, he knows that the videos he creates for the school will be vastly different than those he creates on his personal page.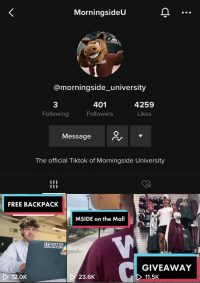 "The Morningside account is brand new so starting over with zero followers makes it hard to get the views that I'm used to. It took me months to get to the number of followers and consistent views that I have. However, Tik Tok is cool because literally anything can go viral and really only takes one video to increase your page," Roggenbuck said. "I [also] have to consider that I am representing the university. I have to make sure everything looks nice and is appropriate for a school."
So far, Roggenbuck has posted six different videos on TikTok that include a promotional video for senior visit days, a tour of Morningside's nicest sights, and a short hype video for football, amongst some others. The Morningside community can view these and future videos Roggenbuck creates on their TikTok page, @morningside_university.