By Mari Pizzini –
Crowning Homecoming Queen can often end as a popularity contest, but what if Morningside's 2020 Queen was crowned because of her heart and attitude more than her popularity? That seems to be the case for Macie Moore.
Moore's path from Morningside freshman to Homecoming Queen has been filled with growth and leadership. To start, Moore was convinced to come to Morningside for a visit because of the cross country team, but chose to stay for reasons beside that.
"As soon as I got here, I had a gut feeling this was where I was supposed to be," Moore said. "From the professors to my teammates, and everyone in between, the community feel at Morningside was special and that feeling has never gone away in the four years I have been here."
Before securing the Homecoming Queen title on October 6, Moore was well known around campus for her many activities. As a current hall director in the Plex, treasurer of Student Government, and a member of the Cross Country and Track teams, Active Minds, Connie Wimer Women's Leadership Group (CWWL), and Omicron Delta Kappa (ODK), being involved and acting as a leader is normal for Moore.
It was Moore's involvement with CWWL that first sparked her path toward co-founding and leading Active Minds. On a sophomore retreat, the members of CWWL were asked to say something they had always wanted to do, but had been too scared to try. Moore mentioned starting a campus mental health group.
"A few girls at my table – Kali Hill and Maureen Voller – were really interested in the idea," Moore said. "We gathered a few more people on campus and the group took off from there!"
"Active Minds has certainly played a big role in my time at Morningside," Moore continued. "On a personal level, it has allowed me to become more comfortable with my own mental health journey and has provided me with lots of information on the resources available to help myself and those around me. Active Minds has also been an amazing tool for connecting with students and administrators across the country while providing some unforgettable experiences."
Mackenzie Bennett, friend and teammate to Moore, reiterated Moore's passion for leadership and for Morningside.
"Macie has a true commitment to excellence. She has helped shape the way that mental health is talked about on campus, and she single handedly changed how the Student Government is perceived," Bennett said. "She has created such a positive and inviting culture in so many of the things that she is involved in and her legacy is sure to continue."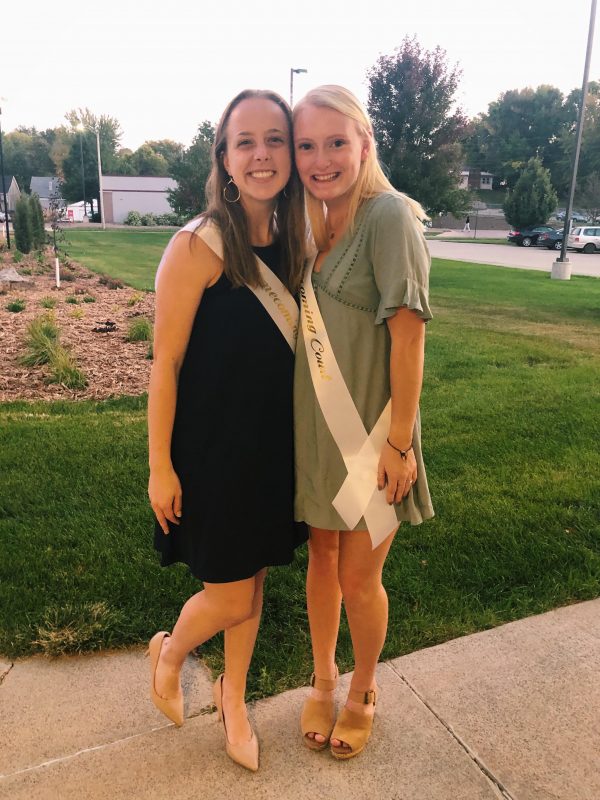 Aside from her experiences at Morningside, Moore is also preparing to continue leading, learning, and growing in her future.
Moore said, "I am currently working on applying to graduate schools and will hopefully be pursuing a dual masters in Policy Analysis and Environmental Sciences." She hopes someday to write environmental or public policy.
In the end, Moore stated that she feels she is "far from queen material," but Bennett seems to feel differently.
"She [Moore] works harder than anyone I know, and is more involved than anyone I know," Bennett said. "Macie has a quality about her where she is able to make everyone, and anyone, feel special, and she is always able to make others feel better. She is the most selfless person I know, and continually puts others before herself."