by Iandra Estupinian– There is no doubt now that COVID-19 is a big deal and has been the reason for many recent changes in the last month.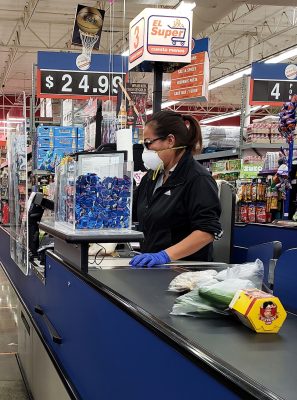 Schools have moved online, all dine-in restaurants are now take-out, employees are not employees unless they are considered "essential," and the idea of personal space now has a measurement, 6 feet away.
With Morningside College closing the campus on April 8th, I had no choice but to go back to my hometown of Santa Ana, California- a state that is on lockdown.
In California's lockdown, all citizens must wear a mask when going out in public, cannot go to any public areas unless it's a store or workplace, and all minors and elders are instructed to stay indoors.
Being home for more than two weeks, I could not believe the safety measurements that were taking place in all the retail stores and in public areas.
When going to any store, there is an immediate line outside the door where yellow tapes separate people by six feet and employees at the doors give you your shopping cart.
All over the store, there are signs saying "Limit your purchase to 1 per item". You constantly hear a "Stay six feet apart!" over the loudspeaker and at the end of your trip, you're greeted by a cashier in a mask and gloves.
"In this lockdown, it feels like everyone has left the city," said Morningside freshmen and Santa Ana resident, Valerie Espinoza. "No one walks in the streets anymore and it's lonely and quiet."
Extra measures are being taken in major cities such as California and New York where it will become mandatory to wear masks in public and you must acquire a pass to drive out past certain hours of the day. Adding on to these set regulations, there are rumors that a statewide curfew in California will be put into effect to ensure that COVID-19 spread will decrease for the next month.
It's a lot for residents of California to take in and coming from a city girl, I really miss the Midwest.