by Tracie Tuttle–On Saturday, September 14, members of the community attended Art in the Park, a fundraiser to keep Latham Park, where the event is held, maintained and looking just as beautiful as ever.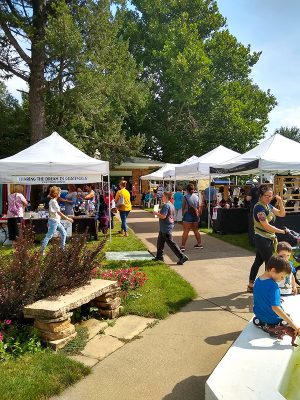 The event boasts a variety of things for patrons to do: from enjoying the live music, sampling the food from concessions, to supporting several artists by purchasing or simply appreciating their art. There was definitely art for everyone to choose from many different mediums available, including photography, paintings, jewelry, pottery, metalwork and much more.
The overall atmosphere of Art in the Park was very relaxing among families and art lovers, where it was easy to meet new people with similar interests in this friendly environment. The live music brought fun to the event, with people dancing along to the music.
Latham Park is a privately owned, open to the public park that allows the community to enjoy this quiet space and the fountain all summer long.
If you are planning on attending next year or just visiting the park which can be found at 1915 South Lemon Street, plan to spend some time and relax.
You can find more info about Latham park and Art in the Parkhere