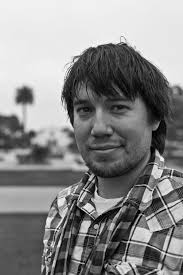 Adam Gonshorowski is a rising star in the film and theatre business in our very own Sioux City.
Gonshorowski graduated from Morningside College on May 8th of 2010. A Dakota City, Nebraska native, Gonshorowski was awarded his Bachelor of Arts, one of 479 degrees earned that year. This propelled him forward towards a fascination with the arts.
After graduation, Gonshorowski went on to earn his Master's in Film Production from Loyola Marymount University. He moved back to Sioux City soon after and began a career in film production and screenwriting.
Though Gonshorowski began with a focus in film and screen, he has recently been transitioning from film to theatre.
"Theatre is a recent development in my portfolio of work," Gonshorowski said, "First and foremost my work has consisted of film and television, but there are different challenges working in that medium that makes theatre more accessible to work in at this time."
He detailed that his childhood was filled with great movies and films, but rarely theatre. This lack of theatrical "intervention" caused Gonshorowski to lean more towards film production. Sophomore year of high school changed that.
"Around sophomore year I picked up an app called Final Draft and a book titled The Screenwriter's Bible.  The combination of the software and book gave me an insight into writing screenplays and I unlocked the key to writing." He began to vigorously apply to Graduate schools in Film Production and landed in the middle of the largest city in the film industry: Los Angeles, California.
"I was taught by the best in the business, everyone from J.J. Abrams, Roberto Orci, to my mentor and prolific writer, Jeph Loeb." Loyola Marymount University left no stone unturned and Gonshorowski believed he was headed towards studio writing.
After three years of some of the best teaching in the world, Gonshorowski made a big move back to Sioux City where his first true production, "The Truman Decision," is being performed at Evelyn Larson Theatre."I decided to start my own production company with the goal of producing films, television, and theatre.  That brings us to today after over 15 years of trying to get here."
Gonshorowski is leading a new era of theatre with self-written productions. Khiana Hume, a Morningside College Freshman with a passion for theatre, explained how she feels about the changing theatre scene.
"It's amazing and is becoming more culturally diverse and inclusive." Theatre productions are now trying to push the agenda of incorporating differences. Hume also believes that the growth of theatre is acting as a new News medium.
"The audience can relate more to it [theatre] because the modern issues are being presented to them by real people and not a screen." While Gonshorowski began in the screen industry, he is now pushing the stage and live action. "Most of them [new productions] push boundaries and that is what makes them great because they are original."
"The more we humanize entertainment the more beneficial it will be for our society," said Chloe Person, a Freshman English Major from Morningside College.
Gonshorowski is bringing theatre to the people. Self-written and directed plays are getting attention, which surprised Gonshorowski.
"It is amazing the outpouring of support that appeared as if by magic."
Adam Gonshorowski is bringing Los Angeles to Sioux City, and the magic of the screen to the stage.