The cracked upholstery of the bar stools in Brewskis' stared back at Taylor and Tara Van Vliet. They slowly walked toward the stools and the high top table. Their feet dragged slightly on the dingy, carpeted flooring.
The reality of what they were about to do, again, was sinking in. They climbed their stools and sat erect, each one breathing slowly while trying to settle the food in their stomachs.
Screens of every sport imaginable surrounded their table. The bright lights illuminated their menus in the dark restaurant even though they both knew what they were about to order.
Taylor looked at Tara and nodded as the waiter approached. Tara's shoulder-length brunette hair bobbed as she nodded back.
"Can we get the shredded chicken nachos, please?" Tara said. She watched as the waiter wrote down her order, smiled, and walked away without judgment. Both their shoulders dropped as their stress was released.   
Brewskis' was the second stop in the Van Vliet sisters' "Nacho Tour," as they have chosen to name it. They wanted to try Lincoln, NE's best and worst nachos in the span of a single day in honor of Taylor returning to college.
Lincoln, where Tara would be staying for her senior year of high school, and Sioux City weren't that far away. Taylor promised she would drive back and forth whenever she could, and Tara promised to visit Morningside to watch her march with the Mustangs.
But they knew it would be different being separate. They were basically inseparable.
So, nachos were their parting.   
"We always make a list of things we want to do during the summer, and we had remembered #hashbrownhuntdown2k15 from BuzzFeed," Taylor said. "This was the biggest regret of my life."
"We started by going to the bank and turning in all our change so we would have funding," Taylor continued. "Is that right?"
Tara's high-pitched mechanical voice came through the phone speaker. "Yes, that was what we did first. We are both so broke."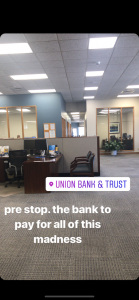 "We tried to go places of varying price points," Taylor said.
The girl's first stop was Granite City for some 'Idaho Nachos.'
"People on Instagram fought us about these. They're actually french fries, so people said they weren't real nachos," Taylor said.
Tara added, "The waiter was also judging us because we wouldn't get any more food."
"Yeah, he asked us like three times if we wanted anything else. Like, no bro, we don't," Taylor laughed.
The Van Vliet's felt mildly uncomfortable in Granite City. It was 11 am and they were the youngest in the establishment. Banter from older couples droned on in the restaurant as they waited for the first of many nacho plates.
"If you did a Google search, Granite City was probably like two to three dollar signs. It's fancy," Taylor explained. They noticed people were drinking during early business hours, and finished the Idaho Nachos quickly.  
They held them over. They turned to each other and decided on their second destination: Brewskis'; the fries and cheese dip settled into the pits of their stomachs.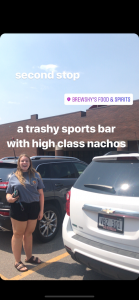 "Brewskis probably had the best nachos of the tour, in my opinion," Taylor commented. She recounted the story. "We got the chicken nachos and they were delicious."
"They had tri-color chips which are definitively better than normal chips. Chip diversity is greater than white chips."
"Oh, and the waiter didn't judge us. But sour cream is nasty on chips and I knew that beforehand," Tara said.
The nachos, including the 'gobs of sour cream,' also had jalapenos that Tara "lived for." Taylor laughed and smiled as she described the bright orange fake cheese dip that was the heart and soul of the nachos.
"There were also diced tomatoes which added some nice vegetable flare to the plate of saturated fat," Taylor laughed.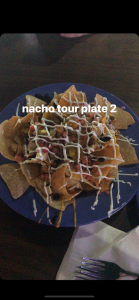 After the second stop, the girls could feel the dairy hitting them and decided they needed a break. Feeling ill, they went to Target. Tara, being in the nostalgic mood, bought some pinata socks after conducting an Instagram poll.
Up next, the sisters decided on an American favorite: Taco Bell.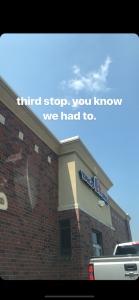 "The regular chip nachos were gross, but their fry nachos were good," Taylor commented. The American fast food restaurant was a disappointment the Van Vliet's agreed.
"It was the hottest week of the summer and we were sitting there eating sweaty nachos," Tara commented. The disgust dripped from her words through the phone speaker and the grimace that Taylor sported spoke volumes to the memory. "They were definitely the worst nachos of the whole tour."
They quickly moved past Taco Bell, as the nachos there were what really added to their already-nauseous stomach pits.
Their final stop was Amigos, and the Van Vliet sisters were already being dragged down by close to $30 dollars in processed cheese and toppings.
The food coma was setting in, and the monotony was following so they ordered Crispos instead.
"Crispos!" Tara exclaimed.
Crispos are an Amigos statement desert of fried tortillas and cinnamon-sugar in a flimsy, American-made pouch.
"We got each of us a bag because we didn't know how big they were. We regretted that decision," Taylor commented.
The cinnamon-sugar tortilla chips cut through the cheese, chicken, and toppings and put a sweet little 'cherry-on-top' to the end of the sister's escapade.
Though the Nacho Tour was unique for the Van Vliet sisters, this idea of buying the same type of food from different places is not so uncommon.
"Me and my best friend did that with chicken nuggets," Zue Alvarado said. She said that they traveled around Sioux City and bought chicken nuggets from fast food establishments.
Food tours have become increasingly popular. Finding the best version of someone's favorite food has become more than just a pastime, but a trend.
The Van Vliets have plans to continue their fun of trying foods.
"Next summer we should do a coffee tour of Lincoln," Taylor suggested.
"I don't know, I think salad would be best," Tara countered.
At the end of the day, the sisters had consumed enough dairy to last a lifetime.
"We spent $40 on chips and cheese that day," Taylor said. "We were upset about the amount of dairy we consumed, but it was a fun day."