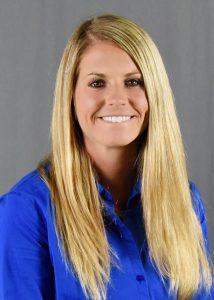 Heidi Connelly, a 2011 Morningside graduate, got her dream job as director of marketing at Knoepfler Chevrolet in Sioux City.
"I absolutely love my job," she said. "It is exactly the kind of position I saw myself in after graduating from Morningside College. I am lucky enough to work for a family-owned company that has been in Siouxland since 1922! Knoepfler Chevrolet is dedicated to the Siouxland community, and I am proud to be employed with them."
During her time at Morningside, Connelly majored in business administration with emphases in marketing and management and a minor in advertising.
"I went on a campus visit and instantly felt welcomed meeting some of the faculty and students," she said. "Since I graduated from a small high school, the small college atmosphere appealed to me. I was looking to get involved in campus activities, and Morningside College offered plenty of those opportunities."
During college, Connelly was a member of the dance team, the treasurer for Student Government, the president of Entrepreneurship Group, and a member of Ad Club, Interdepartmental Honors, Alpha Lambda Delta, and Omicron Delta Kappa.
"I also completed three internships while at Morningside for Powell Broadcasting, the Siouxland Community Health Center, and UnityPoint Health – St. Luke's," she said.
Connelly reflected on her time at Morningside and noted one of her favorite memories.
"In Pam Mickelson's Marketing Research and Ad Campaigns class, we were able to work with Palmer Candy on their new confectionary product line, helping with research, branding, design ideas and marketing plans," she said. "This project really confirmed my love for marketing and advertising and gave me hands-on experience to carry into my career after college. The group I was a part of designed one of the packages that was chosen by Palmer Candy for their new line. It was very exciting to see our actual designs in grocery and convenience stores."
Connelly's advice to current students was to appreciate the resources available to you on campus.
"The professors at Morningside College truly care about their students' education and future careers," she said. "Be sure to utilize them and the Career Services department as resources when you need help during and after college."
Additionally, Connelly encourages students to complete internships.
"I truly feel that having three internships listed on my resume, along with my class experience, assisted me greatly in landing my first job after college and the careers that have followed," she said.
Connelly is grateful for the lasting impact Morningside has had on her life.
"I made life-long friends and met my husband while at Morningside College," she said. "I am so thankful for receiving an amazing education, but also for the people in my life who chose to attend Morningside College as well."