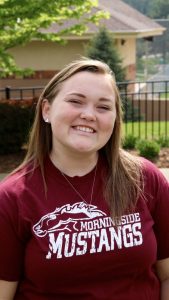 Hope Philbrick is always looking for ways to help and serve people, which makes her future career path very fitting. Philbrick is from Council Bluffs, Iowa and is currently a senior with a major in Nursing and a minor in Psychology.
When asked why she chose to attend Morningside, Philbrick stated, "I decided to come to Morningside because I liked the idea of continuing to participate in activities that I enjoy, while going to college. Morningside gave me the opportunity to get involved with as many groups on campus as I wanted, while still being able to be successful in the classroom."
Philbrick is very involved on campus by being active in the music department and various other groups. Her activities include Symphonic Wind Ensemble, Woodwind Ensemble, Marching Mustangs, Color Guard, Pep Band, Connie Wimer Women's Leadership Program, a staff member on the Residence Life Staff, a member of Beta Beta Beta Honor Society, and participates in Christ Connections, a Christian group that offers students worship services, small group nights, movie and game nights, and volunteering opportunities.
When discussing her favorite thing about the activities she is involved in she stated, "I like being a part of a community here on campus and getting to know other students who are outside of my major."
After graduation Philbrick plans to work at a hospital and would like to travel. She stated, "After I graduate, I'd like to work at a hospital. I would also like to travel and go on medical mission trips to help people in other countries receive the care that they need. Most of all, I plan to help and serve others in any way that I can."
The URI to TrackBack this entry is: https://wordpress.morningside.edu/alumninewsletter/2017/12/05/student-spotlight-hope-philbrick/trackback/
on December 9, 2017 at 9:08 PM Site de Emagrecimento Said:

O melhor site de emagrecimento do Brasil para cuidar de sua saúde

on June 20, 2018 at 4:26 AM jelq arábico Said:

O método descrito é o "Método Jelq Arábico".

Este método foi muito usado por árabes sauditas.

Nesta cultura, possuir um penis grande e desenvolvido era sinônimo de fertilidade, e era com naturalidade que os meninos desse época eram ensinados pelos pais a fazer o Jelq.

Era praticado diariamente ate à idade adulta, e o faziam o faziam de 3 em 3 dias.

O 'jelq' é sistema semelhante ao da ordenha das vacas, para propiciar aumento de tamanho do pênis .

Existem relatos de homens que chegaram a dobrar o tamanho do pênis
depois do período de um ano fazendo a técnica de jelq diariamente.