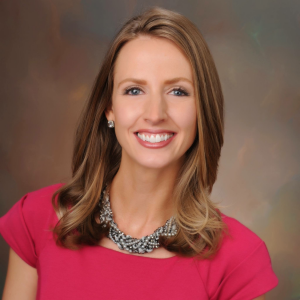 Jenna Rehnstrom is a familiar face to alumni living in Siouxland, as she is an anchor on KCAU9 News in Sioux City. She said she made the right choice to attend Morningside College, where she earned a bachelor's degree in mass communications and a minor in religious studies in 2006.
"For me, Morningside was the perfect mix of 'big city' and 'small town,'" she said. "I wanted to pursue broadcasting and liked that I would be able to do an internship right in my own city, but I also wanted a campus where people knew me and where I could be involved. I wasn't disappointed – it's the perfect mix!"
Rehnstrom's favorite thing about Morningside was living in the dorms. "I really liked the sense of community I got to have as an on-campus student," she said. "There was always someone to talk to, study with, or order pizza at midnight with." Rehnstrom also said she loved being able to be involved in so many different activities and to make friends across a range of majors and interests.
During Rehnstrom's time on campus, she was involved in all the campus media. "I was especially proud of my work as one of the editors of the Collegian Reporter," she said. Additionally, she was a member of the College Choir and Jazz Ensemble, which provided her with opportunities to tour across the Midwest as well as Eastern Europe. Rehnstrom was also active in the theatre program, was a resident assistant for three years, and was a student assistant in the Admissions Office.
Her advice to current students was to be involved. "I loved to be involved, so I say try as many activities as you can balance with school work," she said. "I would also encourage students to take a class in something completely different from their major. I took an astronomy class, which was challenging and interesting, and a religion class that helped me decide on my minor."
Rehnstrom's advice for young alumni was to look for mentors. She said, "I learned so much of what I know about my career by learning from the experts around me. Ask questions, soak in 'how they do it,' and find people who genuinely take an interest in helping you succeed and be happy."
Rehnstrom stays just as busy in her life outside of college as she did while she was a student. Currently, she serves on the Morningside Alumni Board, the Augustana Lutheran Foundation Board, and the St. Luke's College Board. Additionally, she is  part of committees that organize the Crittenton Center's Design and Dine fundraiser and Mercy's Women's Night Out, which is a fundraiser to benefit the Mercy Child Advocacy Center.
When she is not serving on those committees and boards, she enjoys emceeing local non-profit events and speaking to students about broadcasting. Additionally, Rehnstrom enjoys spending time with her husband, Chris, and their three young children.
Rehnstrom has also been honored by the Iowa Broadcast News Association for outstanding anchoring and public affairs reporting and was nominated for a Midwest Regional EMMY Award for her health reporting.