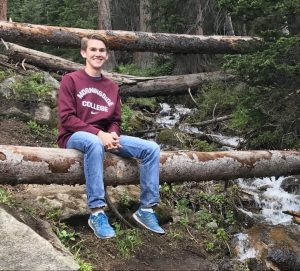 Matthew Nieland is a student that works hard to get involved and meet new people whenever he can. Nieland is a senior biology and chemistry double major from Auburn, Iowa.
When asked, Nieland explained that he chose Morningside because he felt that it was the perfect distance from home. He stated, "It wasn't too close, but also not too far away." He also enjoyed the beautiful campus and the friendly people that he met on his visits.
"I like Morningside because the professors really care about their students and there are a lot of opportunities to be involved," Nieland said.
Nieland has taken every opportunity to get involved in groups and activities on campus. Currently, he is involved in Chemistry Club, Tri-Beta, Omicron Delta Kappa, Marching Mustangs, Symphonic Wind Ensemble, and he is a staff member for Residence Life. Nieland was also crowned the 2017 Homecoming King this year.
His favorite thing about being involved on campus is working with others. After graduation in May, Nieland plans to attend graduate school to further his education.
The URI to TrackBack this entry is: https://wordpress.morningside.edu/alumninewsletter/2018/01/10/student-spotlight-matthew-nieland/trackback/