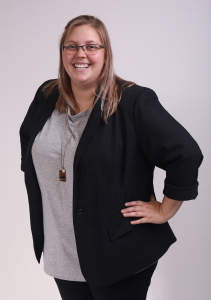 Kelsey Martin is a 2012 graduate of Morningside College where she was a double major in graphic design and advertising, with a minor in business and a cluster in religious studies.
When asked why she chose to attend Morningside, Martin said, "I was seeking an opportunity to study both advertising and design in an environment that would allow me to be heavily involved in advancing my skills in a small classroom setting. The liberal arts education allowed me to study a variety of relevant courses that diversified my experience and skill set."
While at Morningside, Martin kept busy with internships, work study, and Ad Group. Additionally, in 2012, Martin started the Morningside American Institute of Graphic Arts (AIGA) student group, which benefits students by helping them understand the profession and gain important leadership skills.
Her favorite thing about Morningside was the opportunity to develop work directly for clients in Pam Mickelson's Advertising and Marketing Research class. "Advertising and Marketing Research with Pam Mickelson has been, by far, the most beneficial experience that helped set me up for success in life after college," she said.
Martin's advice to current students was to take advantage of the opportunities given. She said, "Take advantage of internship and job shadowing opportunities. It's just as important to find out what you don't like as it is to discover what you do like. Find out what working environments help foster your greatest motivation. Determine what fuels your energy and what totally drains your battery. Morningside College puts excellent tools in your toolkit, but the college experience as a whole gives you a chance to get to know yourself best. Use what you've learned to find careers that are a good fit for you." Additionally, Martin said it is important for students to travel while they can. "It may seem like a lot while you're in college, but it is challenging to find the time and the planned excursions on the budgets that are created for students," she said.
Her advice to young alumni? Martin said, "Get involved with the college. Being an alumnus isn't about donating money, although it's incredible when you can make a contribution to impact future Morningsiders directly. Make some time to advise young students, expand your network by helping with an event, or build awareness/engagement for classes, activities, or traditions that were important to you and your Morningside College experience." As a young alumna, Martin included that it is also important to take advantage of the opportunities you are given, work hard, and be patient.
Martin currently is the director of digital media at Chatterkick, which was a journey that started out her senior year at Morningside by being an intern for the company. She said, "I am extremely passionate about helping brands expand their digital footprint and level-up their digital maturity. I'm beyond nerdy when it comes to social advertising, and am committed to being a life-long learner." Martin is also a member of the Morningside College Alumni Board, which has presented her with numerous volunteer opportunities that she enjoys.
The URI to TrackBack this entry is: https://wordpress.morningside.edu/alumninewsletter/2018/01/15/alumni-spotlight-kelsey-martin-12/trackback/