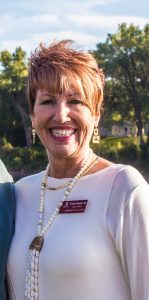 Kristin Noreen has had a passion for education and for helping others, which is evident through the various campus and community activities she is involved in.
Noreen graduated from Morningside in 1980 with a double major in Elementary Education and Physical Education. Later, she got her Masters in Elementary Education from Morningside and a Special Education Degree for Elementary Education from the University of Northern Iowa. She used the education she received to teach school for thirty-four years, most of those being in the Sioux City area.
During her time at Morningside, Noreen was involved in Alpha Omicron Pi and was a member of the women's basketball team.
When asked why she chose to attend Morningside, Noreen stated, "It fit my personal and educational needs." She added that she liked how it was a smaller school and she knew once she started that it was the right fit for her. Noreen explained that her favorite thing about her time at Morningside was the quality education she received and the lifetime long friendships she created.
Her advice for current students was to, "Enjoy your time in college. It will be some of the best years of your life." Noreen's advice to young alumni was to get involved with Morningside. She stated, "We have a tremendous Alumni staff to help you get involved both on and off campus."
Today, Noreen continues to stay involved in the community and on campus. She volunteers at St. Luke's, attends numerous Morningside athletic and fine arts activities, and is very involved in volunteering at Morningside as an alumna. Noreen has served on the Morningside Alumni Board since 2009, and currently serves as the Secretary. Every year she helps coordinate volunteers for homecoming and helps out with various homecoming activities. Additionally, she volunteers with numerous other alumni events including Morningside Madness.