by Alyssa Nehring–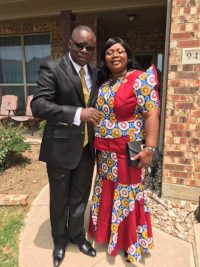 The Business Department welcomes its newest finance professor, Dr. Ngamboko (Lawrence) Muzinga. Muzinga was born and raised in Kinshasa, Congo, and has had nothing but adventure before finding his next challenge at Morningside College.
Muzinga has always possessed the natural ability to teach. During his accounting course at his high school, he found himself tutoring struggling classmates. This experience sparked a love for teaching as well as the field of accounting.
After graduating from the University of Kinshasa, he began working as a bank manager at then the Commercial Bank of Zaire. However, many believed that he was destined for a different career. "My friends would tell me that I'm too good at explaining and patient to not be a teacher," Muzinga said.
Before coming to Morningside, Muzinga taught at the University of Dubuque. During his time there he received several awards for his outstanding teaching. "I love teaching, I have a passion for it," explains Muzinga. He completed his Ph.D. in Agricultural and Consumer Economics with a concentration in Ag Finance at the University of Illinois. As a Graduate Assistant, he received outstanding teacher awards three years in a row, something no other individual has done.
After receiving multiple awards, Muzinga was up for a new challenge, and that's why he was drawn to Morningside. He saw the opportunity to lead new students, test his ability as a professor, and to bring diversity to campus. While at Morningside he will be teaching Principles of finance 1 & 2 and Applied Quantitative Analysis (AQuA).
Since coming to Morningside College, he has appreciated all of his colleagues for making Morningside feel like home. He also enjoys connecting with the students outside of the classroom and supporting the Mustangs.