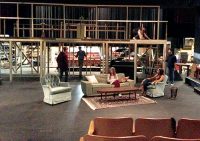 by Christina Vazquez–In a big move for Morningside, Klinger-Neal Theatre is hosting the first student produced play in the history of the college.
Students directing brief one-acts has been a longstanding tradition and part of a class at Morningside, but "Love, Sex, and the I.R.S." is the first full-length production entirely by students.
Originating as part of a Theatre course in Fall 2016, "Love, Sex, and the I.R.S." has been in progress for over a year. All the major parts of a theatre production are being filled by students, from costume & scenic design to acting in and directing the play, which has a run time of over an hour.
In charge of both prop design and public relations for the show, Joey Volquartsen has her hands full. She has spent several hours combing through the various props Klinger-Neal Theatre has stored in order to find the perfect ones.
In addition to finding the props, she checks them for historical accuracy to fit with the rest of the show, meant to take place in the 1970's. And if she can't find the perfect prop? Volquartsen makes them. From papers needed for the characters to breakaway bottles, she does it all.
Despite the amount of work that goes into the props, it's only a small part of the overall production. Stage Manager Annalee Dorsey is responsible for juggling many aspects and helping things run smoothly. She keeps very detailed notes on the rehearsals, which happened five nights a week for the good part of a month.
Dorsey has found it to be a wonderful experience, and is gaining even more confidence in a role she has been performing for a while. "I get to work with my peers rather than someone above me," she says. "I'm getting a better sense of what's right, what's wrong, and what looks awkward." She works closely with Director Brock Bourek to make the upcoming show the best it can be.
Bourek is in his element in the theatre, and during rehearsal he spends the majority of his time with a pencil in his mouth, moving from seat to seat to check the performance from every angle. His version of the script is littered with extensive blocking notes, and even when the rehearsals are over he spends an extensive amount of time in the theatre, not leaving until the wee hours of the morning.
"I know I'm doing what I love most in life," he says after spending nearly ten straight hours preparing for the performance. "It's all worth it for the show I'm directing.  Myself along with everyone else has put in so much hard work."
"Love, Sex, and the I.R.S." runs October 12-15, Thursday-Saturday at 7 p.m. with a matinee performance Sunday afternoon at 2 p.m.