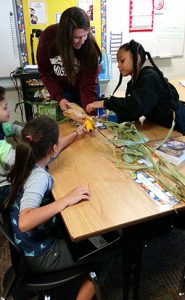 by Rachael Arnts–Just like that, another Morningside Into the Streets day has come and gone. Though it was not an actual Homecoming event, it still brought the campus together.
While it was an enjoyable day for students and faculty to get out of classes, the organizers of the event were finally able to catch their breath and reflect.
Student organizer Karissa Heckens has mixed emotions about the completion of the event.
"It feels kind of strange to be done with Into the Streets because for the last few months, I have devoted so much time and energy to it," said Heckens. "I always like to be organizing and working on some kind of project, so in a way, it is a little sad to be done."
On the other hand, Heckens is also glad that Into the Streets is done because she can now focus on other upcoming events with other student groups. Also, a huge burden of responsibility has been lifted off her shoulders.
Into the Streets committee member Jesse Nitzschke has similar feelings regarding the event's completion. He feels relieved to have it done, but will miss the interaction with organization leaders.
"The best part of being done with it all, is looking back at all the work we did and seeing the impact," Nitzschke added.
Morningside ODK (Omicron Delta Kappa) Circle Coordinator, Leslie Werden, is also pleased to have an ODK event checked-off.
"Considering that it's the largest ODK event, it feels great, especially since this event takes the most time," said Werden.
Overall, the three were very happy with how the Into the Streets ran. This year's planning committee was able to surpass the number of participants and the number of organizations compared to last year. There were 825 student/faculty participants and a record–breaking 88 organizations that participated.
"It was pretty neat to see so many students come together to volunteer; it gave me hope and reminded me of what humans can do when they join together for good," said Heckens.
Nitzschke adds, "The event went great. We had a record number of organizations so we were able to make a great impact in many places."
"Not once did I think it [Into the Streets] would not happen. I was completely confident with the two VP's and committee," said Werden. "I'm just really glad that everyone's so open and willing to help out and participate."
Both students will be graduating this year, but they want Into the Streets to continue to grow after they're gone.
"I truly hope that it continues to grow in the future and I will absolutely do all that I can to ensure that it is even more impactful next year," said Heckens.