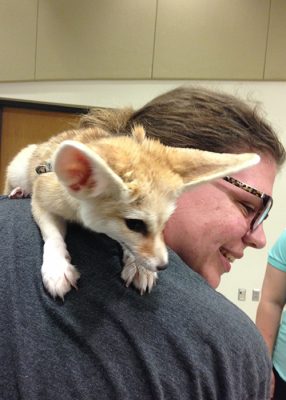 by Christina Vazquez–To kick off the events of Homecoming Week, the Morningside Activities Council (MAC) held an extreme pet therapy session to the delight of Morningside students.
The event had a wide variety of animals, from more typical pets like a rabbit and pig, as well as more exotic animals, including a snake, a skunk, and a fennec fox.
Always popular whenever it is held, in years past Extreme Pet Therapy has been held outside on the "M." Due to the inclement weather in Sioux City October 2, the event was moved to its indoor location, the Yockey room in the Student Center.
"I'm really enthusiastic about holding animals, so it was great," says Rin Payte, a student at Morningside College. They have gone to extreme pet therapy every year. "It was more crowded because it was indoors. Because there were a lot more people it was harder to get to the animals."
Despite misgivings about the crowd size, they still seemed to enjoy it, smiling as they held the snake, a popular animal in the miniature petting zoo.
Jose Luis Gonzalez, another student, also named the snake among his favorite of animals.
Gonzalez, a member of MAC, helped check students into the event. "There were a lot of people," he commented. "I'm not really sure, but I think at least 200." Along with the snake, the fennec fox was his favorite of the animals.
Emily Knapp, a senior, had a wide smile when the fox jumped on her shoulders. Surprisingly light and very accustomed to people, the fennec fox has been a crowd favorite for years.
Reflecting on the event later, she remarked in a tongue in cheek manner that "It was an extreme experience…for Iowa."