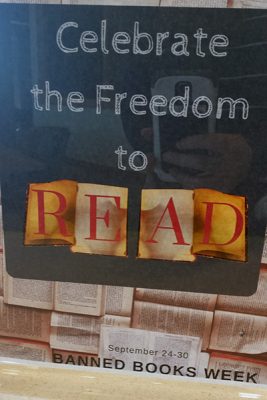 by Lindsey Smith–As a fitting end to Banned Books Week, Morningside students and staff gathered on Friday to talk about Alabama Story, a play that touches on banned books in the 1950s.
Russell Wooley, director and adjunct professor, talked about his decisions in casting the play at Lamb Theatre in Sioux City, as well as the conflict surrounding the play's truthful elements.
The play centers on the year 1958 in Alabama, when a children's book titled The Rabbits' Wedding was restricted from the children's section because it "encouraged integration."
While this part of the play is grounded in truth, a different fictional plot intertwines with the real life book banning involving a white woman and a black man's relationship in segregated Alabama.
Wooley says of the play, "It's an emotional show for a lot of people."
Dave Madsen, a professor at Morningside, was also cast in the play as the senator who decides to keep the book off the shelves.
Madsen found special relevance with the play. "As I'm saying these words, I'm thinking there are still people who would say these words. It's timely," he said.
Besides Alabama Story, there are thousands of books, plays, and other writings challenged each year.
Banned Books Week started in 1982 to combat this rise in book censorship and continues to be recognized every year around the world.
Karen Wascher, Circulation Manager at the Hickman-Johnson-Furrow Library, believes that this week is especially important considering how many people are affected by banned books each year.
As she says, "I think it is important because while for the most part the days of absolutely forbidding a book or burning it in the middle of the lawn are gone, at least in the U.S, people still want to restrict access when it comes to teenagers and children."
For years, certain groups have often fought to remove books from the shelves, many times without having read the material to assess its content, as in the case of the Harry Potter series several years ago.
Supporters and protesters alike feel there needs to be an open conversation about the materials so they aren't hard or impossible to get to but instead are open for discussion.
As Wascher says, "When we think we have it all solved, that's when it becomes dangerous."
To learn more about Banned Books Week and the events that are held throughout the year, you can visit their website here.