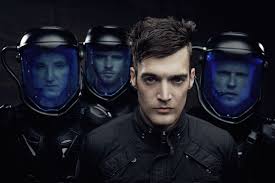 by Sara Alexander–Ohio-based band Starset brought an out-of-world rock experience to Anthem inside Sioux City's Hard Rock Hotel and Casino Friday night.
If you haven't heard of Starset, they could be described as a cinematic rock band selected to inform society of a message sent to Earth foretelling details of the imminent demise of mankind.
In other words, there's hardly a simple way to describe the band.
Formed in 2013 in Columbus, Ohio, Starset plays music centered on themes of astronomy, space, communication, and survival. The band created a fictitious backstory for themselves as members of The Starset Society, an organization aiming to educate society on science and technology. The group was then chosen by the society to spread a message from an unknown source that was sent to Earth from the future. Doing so is necessary in order to educate and save humanity, but it also supposedly puts them in danger.
The whole backstory may sound senseless and elaborate, but in reality, it's been a pretty genius marketing tactic and is a blast for fans.
The show started at 8pm with Sioux City band Calling Grace warming up the crowd. After ending their set with a cover of Simple Minds' "Don't You (Forget About Me)," excitement grew for the upcoming demonstration. (Starset refers to their performances as demonstrations, not concerts.)
Starset had at least a half hour late start due to technical difficulties. This was surprising considering their front man, Dustin Bates, has a masters degree in electrical engineering from Ohio University. However, the band more than made up for the delay by the end of the show.
Starset captivated the audience in an instant with its far-out space-themed appearance. Members of the band wore tight white astronaut-like outfits equipped with color-changing light up masks that pulsed in sync with each song. If they didn't come with astronomical talent and stellar stage presence, they could easily be mistaken for a group of poorly cosplayed nerds at a comic convention.
Although confined to the small venue of Anthem, their performance proved to be massive. Each song came with its own array of production elements, including blinding lights, video seemingly shot on another planet, audio excerpts from famous scientists, layers of backing tracks, and explosive CO2 machines. Fans especially enjoyed hearing the band's top hits like "My Demons," "Monster," and "Carnivore," all of which are worth checking out.
After the initial set, Starset returned to play a three-song encore. Bringing an extra laid back vibe to the already intimate setting of Anthem, Bates encouraged the audience to shout requests and choose their own encore set, which made for some very enthusiastic fans. After all, how often does a band ask the audience what they want to hear then actually play it?
One fan screamed for a song called "Gravity," which Bates remarked they had only played live once before. Nevertheless, the band aimed to please and played the request anyway.
To briefly summarize, if you ever hear that Starset is coming to your area to give a demonstration, don't think about it, just go and prepare to be dazzled. Although fairly new to the music scene, the band is definitely one to watch out for in upcoming years.
Starset will be touring through October as one of the supporting acts for Halestorm. They also have a graphic novel in partnership with Marvel Comics set to release September 25. The novel is titled The Prox Transmissions and is co-authored by Bates.