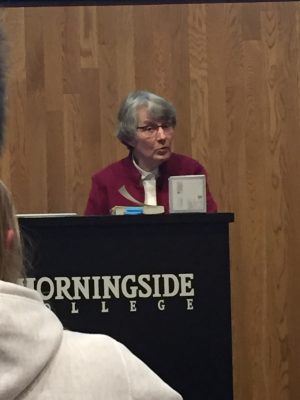 (04.18.2017) By Rachel Potter — Morningside College hosted climate change speaker and writer Connie Mutel on Monday, April 10th to an enthusiastic audience of Morningside students and Siouxland community members.
Mutel discussed on how climate change is the largest existential threat humanity has ever faced, and compared climate change to ISIS and the problems in Syria, claiming them to be smaller problems in the grand scheme.
Mutel has also written a book titled, "A Sugar Creek Chronicle: Observing Climate Change, Composing Hope."
Mutel said, "My goal for this book was that the readers would understand the risks of climate change and act accordingly." The book is made of two parts, a nature journal and a memoir. She also noted that she found it very helpful to share personal stories when you are talking to someone versus throwing numbers and statistics.
Mutel explained why climate change is happening, stating, "Climate change is happening because of the greenhouse effect. The Earth's average surface temperatures are rising rapidly."
Touching on the temperatures she said, "The last time we had a hothouse world it was 56 million years ago and there was no ice, and there were no people around for that."
Mutel ended her speech by teaching everyone what they can do to help stop climate change. She then shared how she hopes America will go to a carbon-free energy by 2030. "Renewable energy is everything right now; we need to go away from fossil fuels."
Speaking with Seth Roberg, a Morningside student, after the talk he said, "I thought tonight's decision was very informative. I did not realize how much your diet effects climate change. If you are eating local food and eating less meat that helps the climate. It is also really important to do the daily task we already know we should do like turn the lights off, use less heat, drive less, and car pool."
Aurora Arevalo, another Morningside student, said, "Tonight's decision was so interesting. I am a biology, chemistry double major, so the science behind climate change is very interesting to me. I personally think that our generation has what it takes to end climate change."
If climate change is something you are passionate about there will be a climate change march on April 29 in Omaha and Des Moines.