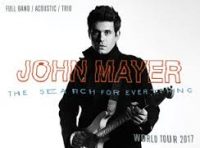 (3.3.1017) By Lindsey Smith–The second wave of John Mayer's The Search For Everything is in fact everything fans of his music have been searching for in his absence from the music scene the past several years. Branching out of his regular style, Mayer combines his life experiences with his incredible talent to create a smorgasbord of sounds. You don't have to be a fan of Mayer's earlier work to enjoy any of these new songs. There's something for everyone.
The second wave is everything found in the first wave and more. Several songs incorporated some of his earlier blues and acoustic rock style, but several songs also included a variety of sounds like folk, country, and funk which lead to very different musical experiences. His four newest songs are titled "Still Feel Like Your Man," "Helpless," "Emoji of a Wave," and "Roll it on Home."
"Still Feel Like Your Man" incorporates blues, pop, and funk sounds in an upbeat song featuring semi-sad lyrics. If you're just getting over a breakup, this song is for you.
"Helpless" is reminiscent of the glory days of The Rolling Stones, with a heavier electric sound and rock style. As a lover of most rock music, this song was my favorite of the second wave.
"Emoji of a Wave" is a folk song mixed with the laid back style of the backup vocalist, a member of The Beach Boys. While it is on the slower side, it's an enjoyable song to listen to while driving or hanging out.
The last song, "Roll it on Home," has the most country vibe to ever come from Mayer. It seems a complete separation from his regular style, but Mayer makes it work with his signature vocals.
Mayer's most recent album is the culmination of three years of studio sessions. Simply labeled as a breakup album after his separation from girlfriend Katy Perry in 2014, Mayer believes this album is more aptly described as his interpretation of loss. Mayer is releasing The Search For Everything a little bit differently than past albums. He is giving fans four songs a month until the full release later this spring. After the first wave hit the internet in January, expectations were high. With Mayer's wide range of talents, this new release is definitely a hit.
All of Mayer's new songs can be found on Spotify, iTunes, YouTube, and several other music sites. Mayer is also set to go on a North American leg for his world tour the summer of 2017. Concert dates and locations can be found on his official website here: http://johnmayer.com/. Tickets are already on sale.