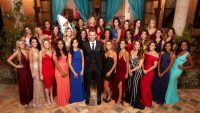 (3.3.2017) By Jaclyn Arens — The Bachelor is a show about love. One man (or woman if it's The Bachelorette) attempts to find love with one of the 30 or so contestants. The lucky bachelor simultaneously dates all the contests and slowly sends them home, and the season ends with a proposal.
The 21st season is coming to an end, and this has not been a typical season of The Bachelor. Nick Viall is a 36-year-old from Milwaukee, and he is not a typical bachelor. This is Nick's fourth go around in the bachelor series world. He made it to the final two on two seasons of The Bachelorette and even spent a summer on Bachelor in Paradise.
The show begins as usual, with 30 women vying for Nick's attention at the season premiere. There were a few women who stood out from the very beginning. Rachel is a lawyer from Dallas. Danielle L. who owns a chain of nail salons. Vanessa is from Canada and trilingual.
There were also a few oddballs on the season premiere. Josephine who spoke about how she talks to cats and seals, and Alexis who showed up wearing a shark costume and heels thinking she was dressed like a dolphin.
Another contestant who made a splash for the majority of the season was Corinne. She is a 24 year-old business owner from Florida. A few of her most memorable acts include taking about her nanny Raquel, sleeping through a rose ceremony, and her spat with another contestant named Taylor.
So far Nick has sent 27 women home, and the season is coming to a close. Nick has spent time with the women with one-on-one dates, group dates, two-on-one dates, and recently, hometown dates where he met the final four's families.
These dates are supposed to be enough time for Nick to find love with one of the women, but he is expressing doubts. Nick is obviously insecure because of his past heartbreaks, and he is worried that this season won't end with a proposal. He almost lost hope in St. Thomas, but he decided he was going to finish out the season.
The three women who are left include: Rachel the lawyer, Vanessa the special education teacher from Canada, and Raven the boutique owner from Arkansas. Out of those three, the only one who hasn't said, "I love you" to Nick is Rachel. I'm not sure if this gives Rachel an advantage or disadvantage because so far Nick has sent home everyone who has said they love him.
The next episode will feature fantasy suite dates in Finland, and reuniting off all the past contestants. I have no doubt that even though the season is coming to a close, it will remain juicy until the end.