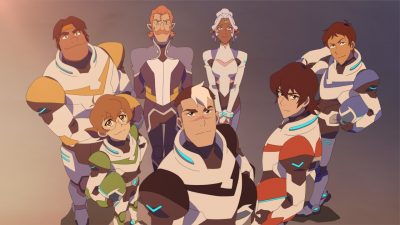 (03.03.2017) By Kayla Perkins — If you are an avid Netflix user like I am, you've probably seen the Netflix Original show Voltron pop up in your suggestions a time or two. What you may not know, however, is that the show is a modern adaptation of a 1980s show, Voltron: Defender of the Universe.
Voltron: Legendary Defender is a Netflix Original Dreamworks series centered around five young space pilots, Shiro, Keith, Lance, Pidge, and Hunk. These pilots are tasked with bringing together Voltron, a giant robot that is able to break into five separate lions that connect telekinetically with each pilot. Doing so, they must fight the evil Galra Empire to stop them from destroying their solar system.
The show's premise sounds a bit far-fetched, but from what I have seen in the series it is presented without being too ridiculous or outlandish.
I am enjoying this series very much. It is able to take itself very seriously at times, with comedic relief to break the tension at just the right moments. The animation is also beautiful, and the plot keeps viewers in suspense. If you were ever a fan of the Avatar series, this is the show for you.
One downside I have noticed, however, is that while the show does note the pilots' reluctance to leave home to fight a war they were thrown into, the show also skips over reactions most people would have towards things. For example, when the lions first connect with the pilots they do not react with shock or fear. Instead they act like it is completely natural, despite no previous experiences like that.
Aside from the occasional hiccup, however, I have thoroughly enjoyed the show, and would recommend it to those who enjoy a good cartoon series that doesn't completely cater to children. Each episode is half an hour long, so it is a great investment, in my opinion, and doesn't leave viewers wanting more than what they got, aside from more episodes.
Voltron: Legendary Defender currently has two seasons on Netflix.