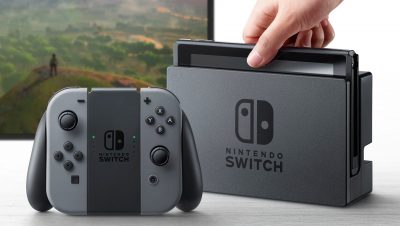 (02.24.2017) By Liv Minshall — With one week until the release of Nintendo's latest console, the Switch, the anticipation of gamers everywhere is practically palpable.
Previously known by its working title, the NX, the Switch is Nintendo's latest attempt to conquer both the handheld and home console market once again.
This system is creating quite the buzz because it can be played in both handheld mode, as well as being able to plug into a docking station for traditional TV gaming. The Switch aims to replace both the long running and well-loved DS/3DS family and the Wii U.
The Switch boasts an Nvidia screen capable of 720p graphics when in handheld mode, and 4k, 1080p output when connected to a TV.  Unfortunately, the internal storage of the Switch is limited to a meager 32GB, but can be expanded with optional microSD cards.
Nintendo's most recent console, the Wii U, flopped due to a lack of games, but so far the Switch boasts a large variety of games being released within its first year.
The newest game in the Zelda franchise, Legend of Zelda: Breath of the Wild, will be released alongside the console on day one. You can purchase Breath of the Wild separately for $59.99.
Zelda isn't the only game that has fans talking. The Switch will also feature games like a Mario Kart 8: Deluxe, Splatoon 2, Super Mario Odyssey, Skyrim, and many others.
Nintendo has revealed that, unlike previous systems, membership to a subscription service will be required for online play. This will also entitle users to a free virtual console each month. The expected price will be between $15 to $20 a month.
The Switch will be released on Friday, March 3, for $300. Pre-orders are still open, although most stores are currently sold out. You may be able to scoop one up, but there is no doubt there will be more stock coming for this one-of-a-kind console.