(02.15.2017) By Rachel Potter — The Morningside Activities Council (MAC) has held the Stuff-A-Bear program for more than ten years, and Morningside College's students anticipate this program every year.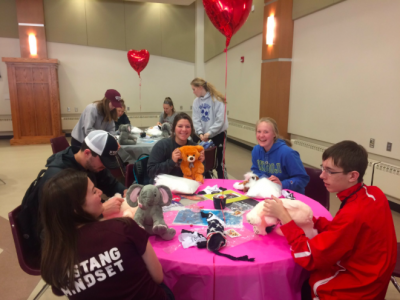 Nearly 400 Morningside students were able to bring home a stuffed animal of their choice on Tuesday.  This year students could choose from a variety of different animals, such as a snow leopard, elephant, white lion, and the classic teddy bear, to name a few.
Molly McInnis, a sophomore at Morningside said, "I did Stuff-A-Bear my freshman year here, and I was so excited to see it was back on campus. This is a very well known program that MAC puts on, and I can't wait to do it the next two years I'm at Morningside."
Jordan Heim, President of MAC said, "Stuff-A-Bear is a signature event for MAC that attracts many of student during our Week of Love."
Zac Pace, faculty advisor for MAC said, "Theme weeks are some of the most important events that MAC does for the campus community. In the past couple of years we have tried to elevate the standard for programming and bring events that are meaning[ful] to the students."
Upcoming events for this year's Week of Love are BINGO on Wednesday, canvas painting with Student Government on Thursday, Kristin Key – a comedian – on Friday, and the monthly Midnight Movie on Saturday.