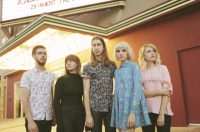 (02.02.2017) By Liv Minshall —  Fans of indie-rock can prepare themselves. Eisley is releasing its fifth full-length album, "I'm Only Dreaming."
When it comes to the indie-rock scene, Eisley has long been in the spotlight.  The Tyler, Texas-based band consists of the DuPree family, and the upcoming album is their first release after a recent line-up change.
"I'm Only Dreaming" was produced under Equal Vision Records' Will Yip, who has produced with bands like Circa Survive, Balance and Composure, and Lauryn Hill.
"Musically, you could say it's classic Eisley, in the sense that it's melodic, moody pop and is written from the heart," said lead singer Sherri DuPree-Bemis, who now balances recording and touring along with being a mother of two.
DuPree-Bemis also stated that she wrote most of the songs on this album with her daughters in mind. DuPree-Bemis assumed the position of lead singer after former lead singer and sister Stacy King left to pursue a solo career.
The band has previously released 3 singles – "Defeatist," "Louder Than a Lion," and "You Are Mine." "Defeatist" and "Louder Than a Lion" are available for streaming on Soundcloud.
The band has also just announced a full US headline tour, with the closest date being March 12 in Minneapolis at First Avenue and 7 Street Entry.
"I'm Only Dreaming" will be released on February 17. You can preorder the album on iTunes, Amazon, or from their website.