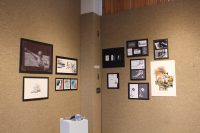 (01.24.2017) By Tabatha Storesund — If you're any sort of art major at Morningside College, you will know what the Sophomore Review is.
Kaitlynn McShane, a sophomore double majoring in Graphic Design and Advertising is one of said students because she just completed it.
McShane says, "The Sophomore Review is a practice run for sophomores to get the experience they need to do their senior show. They present their artwork and get critiques from their professors so they know what to expect, and have the experience of organizing and putting up a show".
The pieces chosen for the Sophomore Review are supposed to be from each art class the sophomore has participated in.  McShane has chosen a few pieces from her Design and Photography classes along with others.
The Sophomore Reviews are put on display in Eppley's art gallery for one week per person, according to McShane.  McShane's Review was just taken down Sunday so the next students' could go up.
These artworks won't be up for long, so head over to the art gallery and take a look.