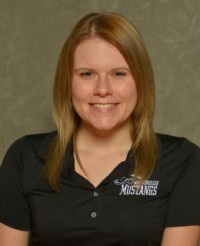 By Rachel Potter — Freshman, Alexandra Mankle of Morningside was named the GPAC/Hauff Mid-America Sports Women's Golfer-of-the-week. Mankle is from Milford, Iowa.  Mankle finished in second place during the Nebraska Wesleyan invite in Lincoln, Nebraska as Morningside's top individual score for each day shooting a 79 and an 80. Mankle is only a freshman at Morningside College.
Mankle's reaction to being named GPAC golfer of the week was both pride and surprise.
"It means a lot to me to be named the GPAC golfer of the week. It's an honor and such a great feeling to know that all the work I put in in the off-season is starting to pay off.  It's also early in the season, so it makes me excited and has given me more confidence in my game going into the rest of the season," said Mankle
"I don't know for sure the last time Morningside has had a golfer of the week, but it seldom happens,"  said
Coach Todd Sapp,
The GPAC conference has many great golfers, so it is an honor for a Morningside golfer to get this recognition.
"The future of the Morningside golf team is bright with this young group of golfers," Coach Sapp said.