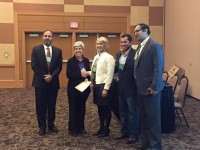 By Jenni Beaver–At the 2016 ACME Conference, Dr. Marilyn Eastman, Morningside's marketing professor, was the recipient of the Innovation Teaching Award. She applied for the award in November of 2015 and found out in January of 2016 that she had become one of three national finalists.
"I started thinking about what I had been doing in Principles of Marketing and the redesign I had done in that class… it had gotten really good reviews from the students and I thought it seemed really innovative," says Eastman.
The judges agreed. Eastman's brand innovation project won her the award.
In her Principles of Marketing class, Eastman allowed students to pick brands within certain industries. Students then spent the semester fully immersing themselves in the brand's advertising, marketing, products, and more. At the end of the semester, each industry group spent an hour presenting all they had learned about their brands and how it related to marketing.
Eastman says the experience was fun. "It was really exciting. To be a new, first-year professor at Morningside and this was my first time I had applied for a teaching innovation award. It was really gratifying to win."
The excitement started even before she won. After the presentation, professors from universities across the country came up to her just to say how innovative her idea was. "A number of professors asked for my information to use the project in their own classrooms," concluded Eastman.