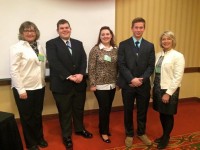 By Jenni Beaver- In March, three students and two business faculty members attended the ACME Conference in Oklahoma City, Oklahoma. The conference spanned two days and allowed students the chance to present research they had done on various topics. One of the faculty members, marketing professor, Dr. Marilyn Eastman, was nominated for and won the Innovation Teaching Award.
She says the emphasis the conference took on writing in the discipline reinforced the work Morningside's business department is already doing. While receiving the award and watching various presentations was a highlight, Eastman says the best part was "having dinner conversations with our students and listening to them present their research."
Dr. Pam Mickelson, the second faculty member on the trip, says "seeing our students present was the highlight of the conference." She was pleased to see their level of expertise in the marketing field and their professionalism compared to students from other private universities. What was the icing on the collegiate marketing cake? "Seeing my colleague, Dr. Marilyn Eastman win the teaching competition," says Mickelson.
The professors were not the only ones who enjoyed the experience. Business senior, Garrett Thomas says it was an amazing opportunity to present his research on gender stereotypes in advertising. He hopes to continue this research in the future, and is excited to see what lies ahead.
Business and accounting student, Caleb Ott says he was extremely nervous to present. "I remember the entire presentation I was shaking," he says. His presentation partner, Jenni Beaver, agrees the presentation was nerve wracking. However, the opportunity to watch professors and students from universities across the country present their research made the experience worth it.
Mickelson and Eastman say this will not be the last time Morningside students have the opportunity to present at a national conference. With improved writing proficiency and research techniques among students, they hope to make this a regular opportunity for Morningside students, specifically those in the business department.