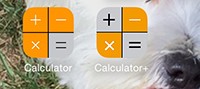 By Jenni Beaver–Calculator+ is an app that functions like the normal smartphone calculator, but beneath its surface is a storage locker for photos and videos.
This is not a one-of-a-kind app, and there are pages of similar programs in the App Store. This is, however, the one that most closely resembles the iPhone calculator.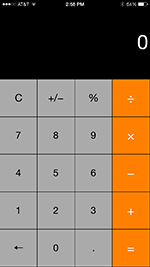 When you open the app, instead of going for 2+2, you type in a code of your choice, hit the percent sign, which opens a portal to hidden photos. On the surface this seems like a great place to hide inappropriate content, and KMSC Station Manager, Jenni Theisen says, "teens often use this app to hide things from parents."
Mass Communication Administrative Assistant Joan Mansfield says her concern isn't about teens hiding things, but adults. More specifically married adults trying to hide extramarital affairs from their spouses.
While the app seems designed for people up to no good, the media director of Harbor Christian Center in Los Angeles, California, believes the app could be used for more positive motives. "I would find this app useful for storing confidential information, such as a picture of my passport or a credit card," said Marissa Coloma.
As Morningside College student Kayla Samek pointed out, however, the photos, no matter how secure they seem, are all stored in the cloud. If there were a breech, that media would no longer be confidential.
The motives of app users aren't clear, but one thing is for sure. With the cloud, users don't have a reasonable expectation of privacy. Think twice before using any app to hide or otherwise conceal risqué photos, personal information, or sensitive media. Any app, website, or device can be hacked and no amount of capital letters, random numbers, and signs can keep those hackers out.