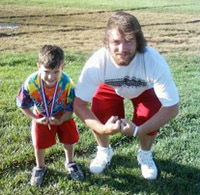 By Jordan Jacupke–On the outside, he may appear intimidating, with a scraggly brown and auburn colored beard; shaggy unkempt hair, and a barrel chest. Michael Beavers looks like a mix between Jack Black and a mountain man. His occasional Bob Marley t-shirt may give you the impression he's a bit of a hippie. But if you take the time to talk with him, you'll realize he's not intimidating at all. He's mild-mannered, likes to watch South Park, listens to Bob Seger, and will someday be teaching your 4th grade daughter.
"I think I have a lot to bring to the classroom." Michael said, as he sipped his morning coffee. "Not saying teachers out there are bad, I just I have a lot of great ideas to make learning fun for kids."
Teaching is not his only passion. He loves fishing and riding his 4-wheeler. He grew up just outside of Lawton a couple of miles on small fourteen-acre farm with his mother, Wendy, father, Mike Sr., and sister, Sheenah.
As you pull into the driveway of the Beavers' residence you notice the garage on the left-hand side, the big red barn straight ahead, and the house off to the right a little bit.
"My parents have lived in this house since they got married, and I'll probably buy it from them once I graduate and get a job."
Mike hopes to get a teaching job around the Sioux City area, but ideally, he would work at his alma mater, Lawton-Bronson.
"I went to that school my entire life. I love it there. I think it'd be great to give back and be a part of it again."
Being a teacher seems to fit Michael's personality very well. He has a genuine concern for people and it's easy to see how he would be able to turn that concern into a successful teaching career.
"I really enjoy helping the kids that are trouble makers. It's painfully obvious that they're just starved for attention, so I give them that attention they need, but also do it in a manner that doesn't encourage the bad behavior."
Not only is the teaching a good fit for his personality, but it works for his fishing hobby as well. During the summers while classes are out, Mike enjoys heading up to Yankton, SD where he and his "pops" put their new camper, just 60 feet from the Missouri River.
" My old man and I will take up a couple boxes of worms and some steaks; we have ourselves a good ol' time."
Michael hopes to take his love for the outdoors and incorporate it in the classroom.
"It's important to keep kids interested in school and by changing things up from time to time, whether it's a field trip, or going out and looking at the grass and plants, it allows the kids to be hands-on. And I've found that that holds their interest better than staring at books all day."
Michael's passion for teaching has been evident since he was a young boy.
"He's always wanted to be a teacher, ever since he was probably ten years old," said Sheenah, Michael's older sister and only sibling. "He's had a knack for helping others and has always been genuinely concerned with the well-being of others."
His sister may be biased, but his fellow classmate Amanda Morton agrees 100% with Sheenah. "He is always energetic when he talks about student-teaching and being in the classroom. Students will definitely be lucky to have a teacher like Mike," Morton said. "He's really good at applying concepts from our education classes to the classroom with kids."
Michael is set to graduate from Morningside in December of 2014 with a Bachelor's Degree in Elementary Education.