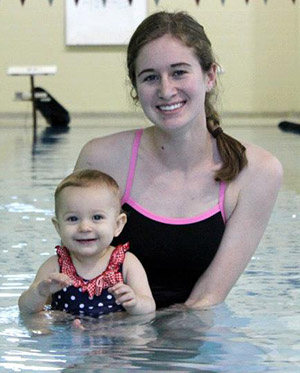 By Hannah Hecht–A baby sits quietly on the floor, her face screwed up in concentration. In one hand she holds a green fabric tote and in the other a picture book. She tries and tries to put the book into the bag over and over again, but like a square block into a round hole, she just can't get it to fit. Her face turns red and she vents her frustration in a long wail. Her mother comes forward calmly, picks the little girl up, and shakes her head.
"I'm sorry Katelynn, but sometimes books just don't fit into bags."
The mother cradles the baby in her arms and the baby's crying subsides and is eventually replaced with a smile. The mother smiles back, love reflected in her gaze.
Amy Baer, a senior math and chemistry major, has a lot more responsibility than most Morningside students. She balances the role of student with work and, most importantly, being a full-time mom.
"Here," she says in the kitchen of her small Dimmitt apartment." Why don't we take this into your room and read it?"
The nursery is littered with toys, a result of the baby's habit of pulling everything off of shelves to examine them, only to get bored and pull off something else. A poster of Sesame Street characters hangs close to the ground, at eye-level for a child who has just began to walk.
"This book has too many words for her, so sometimes I just make them up," Amy says. "There once was a boy and a bear." she mock-reads.
The baby's face lights up, engrossed in the book.
"Which one's the bear, Katelynn?"
The little girl points her index finger to a picture in the book.
"No, that's the boy. Which one is the bear?"
She moves her finger toward the bear in the illustration.
"Good job!"
Baer is usually seen around the Morningside campus pulling her one-year-old daughter in a red wagon. On the back is a sign: "They see me rollin', they hatin,'" a reference to the rap song "Ridin' Dirty."
"I'm probably 'the baby girl' to a lot of people and I know Katelynn is the Dimmitt baby." she says.
It's tough to be a mom, study as a full-time student, and work in residence life, but somehow Amy manages the balancing act.
"Once you get into a routine, it gets a little easier, but it's still difficult." she says. "It's really hard to do one thing really well, because I'm doing too many things at once. Sometimes I feel like I'm putting Katelynn in daycare too much or like there are times that I could study more."
Amy attends class in the mornings, takes her daughter along on errands or to work in the early afternoons, and sets aside her evenings to play with her.
"After she goes to bed, I start being a student again."
"I'm usually in awe of how much she can do in a day," says Amy's friend Julie Pitel, "She is a person who does what she needs to and doesn't complain. When things get a little overwhelming, she doesn't always like to ask for help. However, she knows that she has people who care about her and Katelynn, and she's getting better at asking for help when she needs it."
Katelynn and Amy are their own little family in their first floor Dimmitt apartment, along with help from Katelynn's father,  Amy's boyfriend of two years Patrick Whitsell.
Amy hasn't always been comfortable with her situation. When she first discovered that she was pregnant as a sophomore at the age of 19, it seemed like the end of the world.
"It was like the worst feeling I've ever felt in my life. I thought my life was over," she says, "I thought I was too young to be making big decisions. Do I get an abortion and feel awful about it for the rest of my life or do I tell my family and ruin my relationship with them? There were just two incredibly bleak options."
Luckily, things slowly worked themselves out and she decided to keep her baby. Amy gave birth to a beautiful girl on November 1, 2011.
"It [keeping her baby] wasn't as bad as I thought it was going to be, but there were still some really rough moments… and there still are."
Her family's reaction had a lasting effect on their relationship.
"There's still a small elephant in the room." she says. "I wouldn't say it's huge, but some of the things that were said can't be taken back. However, Katelynn has a good relationship with her grandparents, probably more than I have a good relationship with my parents, and I suppose that's the most important thing to me. She's still young and she still needs all the love she can get."
Amy says that there were good things to come out of her pregnancy. She thinks that it has brought her both personal and financial independence and that she is no longer scared to graduate and go out into the world.
Sheri Hineman, Amy's boss at her job in Residence Life and occasional babysitter, says that the experience has helped Amy grow as a person.
"I have seen Amy grow in her ability to adapt.  She has had to adapt to Katelynn's schedule.  She has had to adapt to sticking to a budget to buy what she and Katelynn need.  She has had to adapt to not having the traditional college experience that most other students her age will have."
After graduation in the spring, Amy plans to find a job either here in Sioux City, close to Katelynn's father, or in her hometown of Council Bluffs.
"I might do anything from working in a lab, to being an analyst for a company, to maybe even doing something in residence life, because I have a background with that here at Morningside."
She wishes that she had the choice to keep her same daughter Katelynn, but instead have her a little later in life.
"Since I had Katelynn, I love her and I don't regret having such a wonderful daughter, but I still wish that I would have waited," Amy says. "In the future, I just want her to know that she can tell me anything and I really mean that. And I want her to know that I'm going to be supportive of her no matter what mistakes she makes. I know what it's like to be in a position where you think that you can't tell your parents because your life will be over. In the end, I just want her to be able to think for herself."