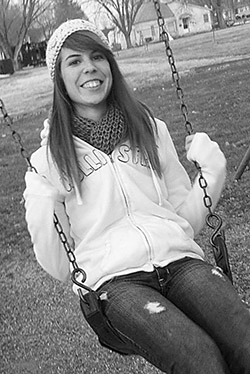 By Cassie Burnside–A mile and a half into the cross-country race at the Galva-Holstein meet, Madison Walsh fell to the ground, victim to a seizure episode. Later on she would be diagnosed with Conversion Disorder.
Conversion Disorder is a condition where the person has blindness, paralysis, or other neurological symptoms that cannot be explained by medical evaluation. "It feels like your whole body is shutting down. Sometimes I'll lose control of my hands," Walsh said. "My speech goes first and I can't talk. I can't let people know what's going on as much as I want to tell them."
Walsh is a 20-year-old sophomore at Morningside College. She is majoring in Religious Studies and Mass Communications. She is involved with the track and cross-country team, leads a Bible study, and is interning at Sunnybrook Community Church.
It was only two years ago when the idea of college was almost nonexistent. Maddie's entire senior year was spent looking for answers from doctors. At first she was misdiagnosed with Lyme's Disease. They treated her with Valium, which affected her short term and long-term memory.
Valium made her so sick she cannot remember parts of that year. "I spoke at graduation and I can't remember some of the things I said."
Maddie's episodes got so bad that she had to end high school three and a half weeks early. She was beginning to lose hope that things might not go back to "normal." "It almost scared me to think about getting better because I hadn't known any better. I had just gotten used to making jokes all the time and being the weird sick girl."
In the summer of 2011, she was confined to a recliner by a window. The only time she would get up was when she had to use the bathroom, and even then her dad would carry her. "Every morning I would wake up and my day consisted of looking at the leaves. I was so scared that I wasn't going to do what I wanted to do. Or if I was even going to go to college."
It wasn't until August at the Mayo clinic in Rochester, Minnesota, pieces of this puzzle were finally placed together. Maddie was diagnosed with Conversion Disorder. For ten days she was given cognitive behavior therapy to help her learn how to fight these episodes. She was beginning to see the light at the end of this long, dark tunnel.
"The day we got back from Mayo that morning at 10:00, I asked my mom if we could go to college today." She knew if she didn't seize the opportunity she might never go. "It was probably too early. I mean, I couldn't even read the first day of class. But I was able to take 12 credits and simply hold on."
Maddie still struggles with these episodes but has learned how to mentally fight them. Her faith has kept her sanity in this whole process. "I try to live like Jesus is coming back at any time. That's just how I try and live. I definitely appreciate everything and try to have a good attitude because it definitely affects people. I realized the effect that people had on me and how my attitude could affect others."
Maddie has now decided to take the next step in her life by applying to the New Tribes Bible Institute, either in Wisconsin or Michigan. After graduation there, she will be entering the mission field through the school. She will be traveling to unreached tribes in other countries to spread the gospel and the word of God.
Maddie's close friend Garret Ehlers said, "Maddie has an honest heart of gold. She is one of the most sincere people I will ever know. She cares more about those around her than herself. She is willing to sacrifice everything she has to help those around her, and do whatever it takes to complete their joy in Christ."