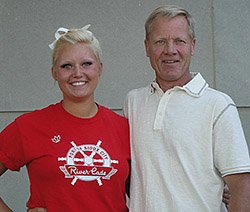 By Caitlin Casey–She seems like the typical college girl, but no one would guess that Allison Kjar, 19, has been through some pretty hard times. Kjar is a sophomore at Morningside College. The blue-eyed blonde can be seen on campus with a bright smile lighting up her face. She loves shopping, socializing with friends, and spending time with her family.
January 15, 2010 was the day Allison Kjar's whole life changed. She was at a fireman's dinner with her family, including her dad, Keith, and his girlfriend, Mindy, who he had only been seeing for two and a half months at the time. All was going well until a piece of steak got stuck in her dad's throat.
The family didn't think much of it at the time. Keith went to the doctor to have his esophagus enlarged, which is a typical procedure for men, because they tend to take big bites when they eat. Instead of just performing a routine procedure, doctors found a tumor.
Keith was suffering from esophageal cancer. It was already stage three. Doctors began treatment right away. Four times a week he would travel to Rochester to get treated. This continued until Easter weekend in April when he was finally able to have surgery to remove the tumor.
"It was really scary. From the beginning I said I'm going to beat this," Keith said.
"You always think of the worst things first," Allison said, when she first found out her dad had cancer. "My thoughts were 'Oh my God, my dad isn't going to see me graduate or get to walk me down the aisle at my wedding.'"
After finding out her dad had cancer, Allison's view on life took a drastic change. She realized it's the little things that really do count and that anything can change in an instant.
"People complain about school, or test grades, or even food in the caf. I'm just thankful to be here and wake up every day."
The hardest part, Allison said, was telling people about her dad. At first the family didn't know how bad it was, but having to tell other people put things in perspective.
"I was really emotional, I didn't get much sleep," she said.
After the surgery Keith wasn't allowed to eat anything for two months. Instead, he would put water in his mouth, slosh it around, and spit it back out. At the end of June he was finally able to eat pudding and applesauce. His first real meal was an egg.
"We took him out to eat at Perkins. It was a pretty big deal," Allison said.
Allison has always been close to her dad but she believes that this brought their whole family closer together. Her dad's relationship with his girlfriend became stronger. It was a big test for them after only dating for a couple of months. They are now engaged and plan to get married in the near future.
"It changed my relationship with God and my family. We grew stronger," Keith said.
This experience also taught Allison to be very independent. She suddenly had more responsibilities, like taking care of her little sister, basically becoming the mom of the house since her older sisters had all moved out. Despite that fact, her sisters all came home to help as well.
"I think it's easier for us to deal with other problems after going through something like that," Eliza Kjar, Allison's younger sister, said.
It has now been almost three years since Allison's dad has been diagnosed with cancer, and he is currently cancer free. She sees her dad at least two to three times a week; it's part of the reason she went to college so close to home.
"I can't imagine not seeing him as often as I do," Allison said.