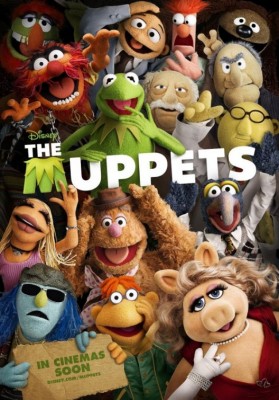 By Emily Domayer–
Wocka, wocka! Kermit the Frog and his friends are back in theaters. The Muppets is directed by James Bobin and co-written by Jason Segel. The story begins by introducing a new Muppet character, Walter, who lives with his older brother, Gary, in Smalltown. Gary and Walter love to watch the Muppet Show. Gary is portrayed by Segel, who is known for films such as I Love You, Man and Forgetting Sarah Marshall.
Gary and his girlfriend, Mary, portrayed by Amy Adams (Enchanted, Julia and Julia), a trip to Los Angeles, which she thinks will be a romantic getaway. Gary invites Walter, and the two brothers are ecstatic about going to the Muppet Studios.
When Gary, Mary and Walter arrive at the studio, they are shocked to find that it is in terrible shape. Walter happens to overhear Tex Richman, (Chris Cooper, The Bourne Identity), say that he wants to tear down the theater and drill for oil.
Horrified, they rush off to warn Kermit. The only way to save the studio is to raise $10 million, which can only be achieved if the Muppets get back together for a show.
"The Muppets" movie does not take itself too seriously. There are several references to being an 80s phenomenon. Kermit has a butler/chauffeur named "80s Robot". He serves the guests soda in cans with logos in that era. When the characters are presented with a problem, it can be easily solved with a silly solution. When Kermit and his friends go to Paris, the group "travels by map" across the ocean in the car.
Part of the charm of the Muppets is their interaction with humans. Chris Cooper is supposedly a threatening character, but he has conversations with a talking frog, a pig, and the reptilian Uncle Deadly. The Muppet Walter and human Gary have a warm relationship as brothers. Gonzo gives orders to the human employees at his plumbing business.
The movie features several celebrity cameos. Emily Blunt plays a snobby secretary at Vogue, akin to her role in The Devil Wears Prada. Neil Patrick Harris and Selena Gomez help answer the phones at the telethon. In a scene of identity crisis, Walter and Gary sing, "Am I a Man or a Muppet?" The Big Bang Theory's Jim Parsons portrays Walter as a man.
The movie reintroduces the Muppets to a new generation. Walter's character shows that one person can make a difference. The characters learn a lot about teamwork and perseverance as they work together to achieve their goals. All the Muppets are very welcoming to Walter. The Muppets is a refreshing reminder that entertainment can be funny without being trashy. This movie is a treat for long time Muppet fans and new viewers as well.